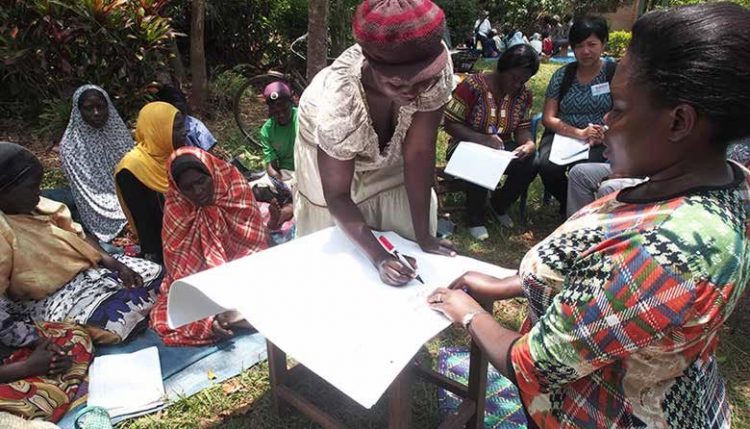 2
GREAT appoints IITA social scientist as ambassador
An associate Social Scientist/Gender Specialist at IITA Cameroon, Lilian Wopong Nkengla, was recently appointed as one of two Africa Gender Specialists, ambassador, and advisory board member of the Gender Responsive Researchers Equipped for Agricultural Transformation (GREAT) Community of Practice.
This is indeed an important assignment for Lilian who comes on board from 1 July 2017 to 31 December 2018 to support GREAT's gender-responsive research across the root, tuber, and banana community. Her work is expected to help strengthen the gender network in sub-Saharan Africa.
GREAT is a Cornell University and Makerere University joint certificate program in applied gender training for agricultural researchers. It offers skills in gender responsiveness tailored to assist agricultural researchers to address gender issues in each stage of research along the design, implementation, evaluation, and communication pathway. The focus is on gender training linked to practice and change within institutions and national policies.
GREAT uses a blended model of two face-to-face training events bookending field work and e-learning/mentoring, as well as post-course support. The course has three parts: (i) an introductory module on general theory and concepts of gender responsiveness and applied instruction on data collection methods focused on specific agricultural discipline based themes; (ii) practical field experience emphasizing collection of sex-disaggregated data from ongoing projects, supported by e-learning and e-mentoring; (iii) a data analysis, interpretation, and feedback/advocacy module.
GREAT will build a center of excellence at Makerere University for gender-responsive agricultural research, and establish a "Resource Hub" to bring together a growing community of practice in gender responsive agriculture, creating a people-focused resource for agricultural researchers to post calls for, identify, and contact gender experts working on key areas of interest to them. GREAT is supported by the Bill & Melinda Gates Foundation and is funded through International Programs in the College of Agriculture and Life Sciences at Cornell.
For the purpose of this role, Lilian will participate in quarterly conference calls with the GREAT project investigators and the management team; advise the board on activities listed on an editorial calendar; solicit feedback on programming and activities from the RTB cohort through listserv and other mechanisms; review, comment, and disseminate an annual outcomes survey to the RTB cohort; represent the RTB cohort at the GREAT annual meeting and provide feedback to the GREAT executive advisory committee, and counsel and advise the incoming advisory board for the next cohort.
She is also expected to remain involved in GREAT through trainer roles in an upcoming GREAT course; further develop technical and professional skill sets through sponsorship of training opportunities; and take on a leadership role within the emerging GREAT Community of Practice.
IITA is indeed very proud of Lilian and wishes her well as she settles into this new role. Congratulations, Lilian!