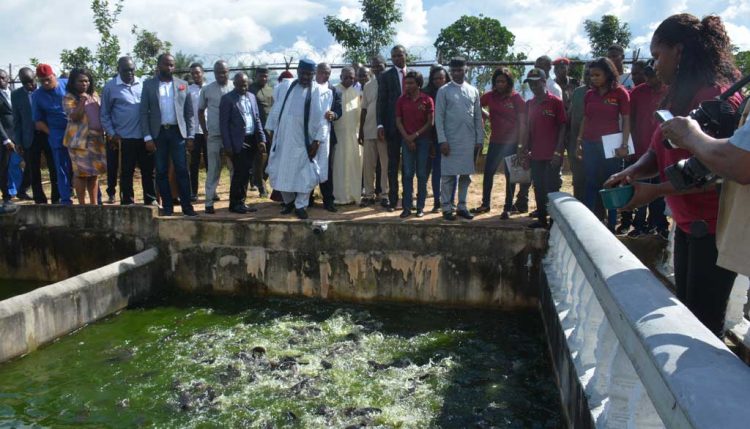 IITA opens another incubation center!
In 6 months, a group of IITA Youth Agripreneurs (IYA) has developed another thriving agribusiness center in Imo State, southeastern Nigeria.
Imo State Governor Owelle Rochas Okorocha announced this on 31 July during the official launching of IITA's incubation center piloted by IYA at the Imo State Polytechnic in Umuagwo.
Speaking further on the importance of the proposed partnership, Governor Okorocha said most of the food consumed in the State comes from northern Nigeria, so involving the youth in agriculture will help reduce the food importation and hunger in the state.
"In 2011 when I became the Governor, I was worried that everything we consumed came from the north. I started asking questions—if our northern brothers fail to provide us with food, does it mean we would all starve of hunger? But in 2017, it was as if IITA heard my worries. I am glad that you are using the youth in bringing an agricultural revolution to the state," he said.
According to him, IITA's youth program will help groom the younger generation to embrace agriculture as a business, help reduce food insecurity, hunger, and unemployment, and promote national security.
He stressed that much needs to be done to change the mindset of the youth so they can go back to the basics and realize that agriculture, through agribusiness, can provide better opportunities for them.
"I congratulate these young IITA entrepreneurs because their mindset has changed and that is what I want you to do for every youth in this state. With a changed mindset, a tricycle rider can become a wealthy farmer just like the IITA Youth Agripreneurs. If these young people groomed by IITA can do it, I see no reason why every other youth in the State cannot do the same," he said.
While responding to the Governor, the Head of IITA station in Onne, Richardson Okechukwu said IITA is ready to extend its technologies in agriculture to the farmers and youths in the state. He added that piloting the youth-in-agribusiness training center in the southeastern part of the country was one of the ways of extending IITA's benefits to the people of the region. He said more youths in the state will have the opportunity to be trained in agribusiness once the ENABLE Youth program kicks off in Nigeria.
The Rector of the host institution—Imo state Polytechnic, Reverend Fr. Wence Madu, said IYA has made a lot of impact within a short period of its existence in the State.
"My students are amazed by what these young people are doing and I am surprised that many of them go to the incubation facility to offer assistance during their leisure time. By doing this, they are also learning," he said.
Delivering a speech on behalf of the IITA Youth Agripreneurs in Imo, electrical engineer Silver Ahanonu, an intern with the IYA Imo team, said "Part of what we do is horticulture; we produce tomato, cucumber, and pepper in a 5000-m2 greenhouse. Whenever we take the tomato to the market, buyers think they are imported from South Africa or the north. They don't believe they are grown in Imo. So we take photos of our tomato and our activities in the greenhouse to convince them. We also produce eggs, which we sell daily but it is difficult to meet demand. For the tomato, we have a projected revenue of 1.5 million naira per cycle as we plan to produce all year round with our irrigation facility.
In January 2017, Director General Nteranya Sanginga and the Director, Agriculture and Agro-industry Department of the African Development Bank, Dr. Chiji Ojukwu, visited Imo to explore areas of expanding the youth initiative to the southeastern part of Nigeria.
The team discovered some abandoned poultry, fish, and horticulture facilities at the state polytechnic that could be used to train the youth and also establish enterprises. Some youths were transferred from IYA in Ibadan and Abuja to Imo and within 6 months they renovated and stocked 23 ponds with 10,000 catfish with a projected revenue of 13 million naira (~$41,200). They also stocked a 3,000-capacity poultry house with 2,940 broilers and layers with an egg production of 24 crates daily, and a greenhouse with tomato, pepper, and cucumber.
They have also cultivated 15 hectares of soybean and 50 hectares of cassava.
They are currently training 11 unemployed graduates who just completed their National Youth Service Corps year.