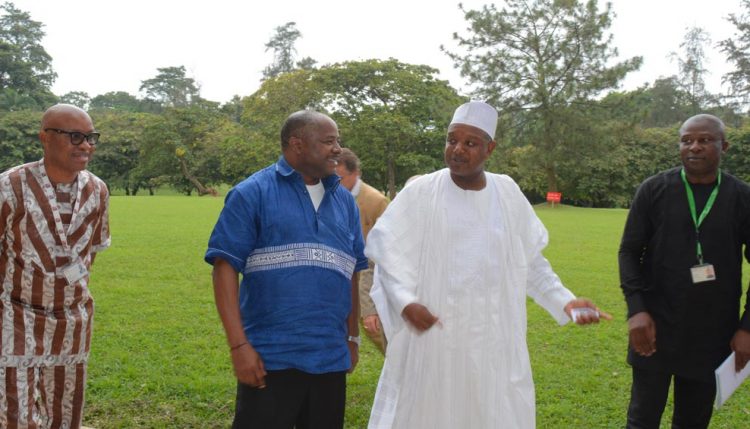 Kebbi State Governor seeks collaboration with IITA
The Executive Governor of Kebbi State, Alhaji Abubakar Atiku Bagudu, and his team visited IITA on 8 August to seek collaboration on moving their agricultural development agenda forward.
The visit, a follow-up on the inauguration of a N10 billion (about US$31,500,000) WACOT Rice Processing Mill in Argungu, Kebbi State, by the acting President, Prof Yemi Osinbajo, came at the heels of IITA's Golden Jubilee held 2 weeks ago. While commending IITA for being the world's leading research center in transforming African agriculture, Governor Bagudu said, "We need your support. The rice processing mill has been launched in Kebbi State and it has the capacity to produce 400 tons of rice per day. We want to partner with you in achieving and reclaiming our lost glory, and ask you to provide us with seed of improved varieties to help us boost the production of rice."
IITA Director General Nteranya Sanginga expressed his heartfelt gratitude for the bold step taken by the Executive Governor in seeking a lasting solution in IITA. "We must find a way of solving the challenges faced by the farmers in Kebbi and with the level of your commitment we will proffer solutions to the emerging problem," he said.
During the tour of the Institute's facilities including, the aflasafe™ (a biocontrol product for controlling aflatoxins) production plant, NoduMax, a soybean inoculum fertilizer facility, and rice fields, Governor Bagudu said ,"…We are seeing astonishing research happening at IITA, and I hope it will be extended to my state." As a result of the strong collaboration emphasized by Governor Bagudu, DG Sanginga promised that he would soon send an IITA team to Kebbi State to look into the matter and strategize ways of assisting them to significantly increase crop production and productivity.
Francis Nwilene, the Head of AfricaRice in Nigeria assured the Governor that he would also send a team to Kebbi State to assist with rice production.
Kebbi State is endowed with a large expanse of arable land suitable for the production of rice, wheat, maize, sorghum, and groundnut.