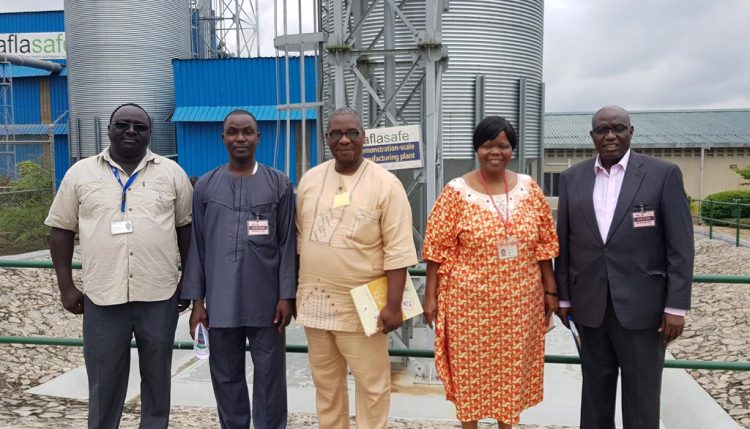 NSPRI visits IITA to discuss postharvest solutions
The Executive Director of the Nigerian Stored Products Research Institute (NSPRI), Professor Olufemi Peters and his team, visited IITA on 9 August to seek collaboration on all aspects of postharvest handling of agricultural products.
IITA Director General Nteranya Sanginga, accompanied by senior management, welcomed the Director, saying: "We are indeed glad to have you in our midst; I am looking forward to a productive collaboration."
Prof Peters expressed delight over the fact that NSPRI, a leading research institute that provides agricultural postharvest solutions in Nigeria and the West African subregion, and IITA, the leading international institute that transforms Africa's agriculture through research, can work together. "I have heard and seen the impact of your ground-breaking research and technology advancement and I believe, together, we will attain greater heights."
As a result of the strong interest indicated by the NSPRI delegation, both parties agreed on collaborative terms through a memorandum of understanding (MOU).
While conducting the visitors around the IITA Business Incubation Platform (BIP) facilities, which include the aflasafe™ (a biocontrol product for controlling aflatoxins) production plant, NoduMax, a soybean inoculum fertilizer, and GoSeed for the production and marketing of quality breeder and foundation seeds/planting materials, Prof Peters said "I commend the management for a good job. I am convinced that this collaboration will put smiles on our faces; we can learn from our experiences." He added that he was amazed at the impact of IITA's research.
On that note, Dr. Kenton Dashiell, IITA Deputy Director General, Partnerships for Delivery, pledged to visit NSPRI with his team as soon as possible to see their facilities and further assured them of a productive and fruitful collaboration.