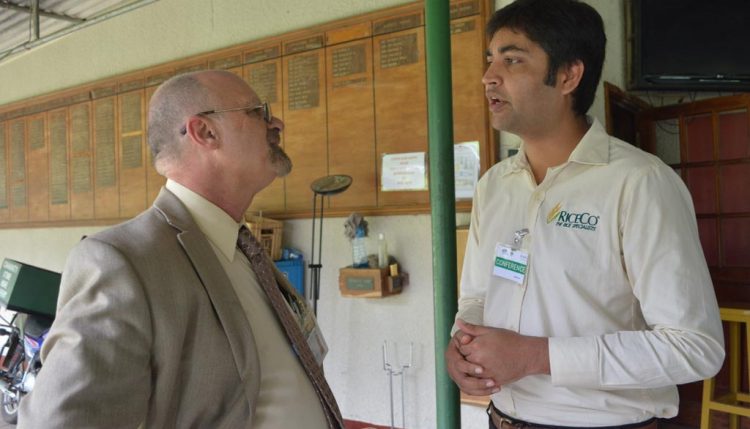 Stakeholders discuss strategies for cocoa rebirth in Nigeria
Strategies to improve cocoa production in the country dominated discussions at a recent conference in IITA held 8-9 August, where stakeholders explored measures to address challenges encountered and possible ways of reviving cocoa to ensure sustainability in Nigeria.
The 2-day conference with the theme "USAID Nigeria Expanded Trade and Transport (NEXTT) – cocoa close-out meeting and strategic thinking", deliberated on what had been done in the last 3 years, drew a roadmap for the next 5 years or more, and also appealed to USAID to continue to support the project amid challenges. In attendance were participants from IITA, Olam, Starlink, Cocoa Research Institute of Nigeria (CRIN), the United States Agency for International Development (USAID), Dawn Commissions, and farmers.
Nigeria used to be the second highest producer of cocoa; the crop continues to be the topmost agricultural contributor to the country's GDP. According to the International Cocoa and Confectionary Organization, Nigeria has dropped to the 7th position, a major concern among stakeholders involved in cocoa production. Cocoa production is highly labor intensive, and smallholder cocoa farmers face many challenges including severe crop loss due to diseases, aging trees, outdated farming techniques, and limited organizational and research support.
In his opening remarks, Mr Aderemi Osijo, from the USAID Nigeria NEXTT project, applauded all the participants and urged them to seize this opportunity to share research experiences, identify research needs, and ultimately develop national, regional, and global alliances that will help to unleash the potential of the crop.
Mr Adekunle Oladipo, Director of Tree Crops in the Federal Ministry of Agriculture, Abuja, said: "Even though Côte d'Ivoire is the number 1 exporter of cocoa in the world, I believe that after this conference we will come out with more strategies that will help us recover lost ground and bounce back on our feet."
Dr. Ranjana Bhattacharjee, IITA Molecular Geneticist, urged participants to "… Get down to action to bring out a white paper with recommendations, which can be submitted to different stakeholders, public or private institutions, donors, and farmers to make sure we come together as a team to reclaim Nigeria's lost cocoa glory." She added, "I wish we can take a decision to sensitize the youth and farmers because whatever we see today is a product of what has happened in the past. We need to forge ahead for the benefit of all and the generations to come."
Speaking on the need to move Nigeria's cocoa industry forward, Dr. Kenton Dashiell, IITA Deputy Director General, Partnerships for Delivery said: "We need to have the right variety and the right genome for our contribution to be indispensable and irreplaceable in the economy."
In response, Bhattacharjee noted: "The use of the right and high-quality planting materials in the right environment plus market demand must be linked and developed to increase Nigeria's cocoa yield and boost the country's economic growth…"
Dr Olayiwola Olubamiwa, acting Executive Director of CRIN, also noted the government's role in structuring the right linkages for all players in the cocoa system as vital to revitalizing the country's cocoa producing glory days.
While highlighting the need to structure the right ties, Dr Lava Kumar, Virologist and Head of IITA's Germplasm Health Unit, reminded participants on the urgency to adopt innovations such as the online seed tracker developed by IITA and urged them to seize the opportunity to facilitate a lasting solution by creating users that would support their operations through real-time data access in cocoa.
Cocoa is a small (about 4-8 m tall) perennial tree crop that primarily comes from the tropical regions of Southeast Asia, Latin America, and West Africa. It is essential to the livelihoods of 40-50 million people worldwide, including over 5 million smallholder cocoa farmers who grow this valuable crop. In West Africa about 6 million hectares are planted with cocoa, contributing about 70% to the total world production.