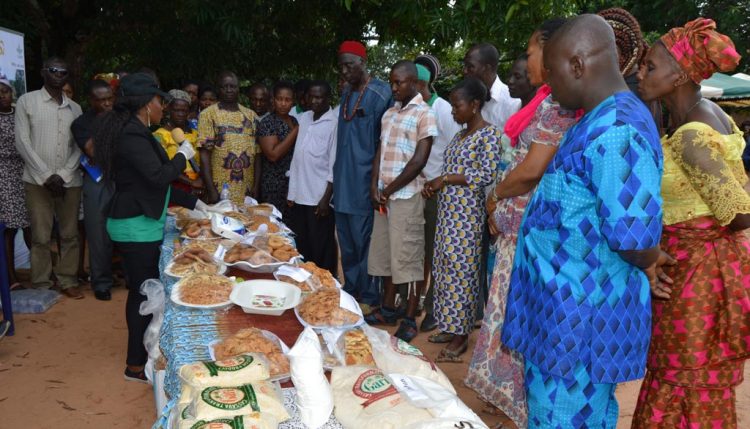 Local government praises ATASP-1 for improved cassava intervention
A local government official lauds the Agricultural Transformation Agenda Support Programme Phase One (ATASP-1) project, describing it as the "first Federal Government program in their community."
Speaking at the first ever cassava field day, a one-day event held at Ezimo-Agu community of the Udenu Local Government Area (LGA), the elated chairman, Hon. Frank Ugwu, congratulated IITA for its just-concluded IITA50 celebration. "We are happy for your support in the provision of cassava stems (especially during stem scarcity), and extension services which are helping farmers to improve their yield," Ugwu said.
He solicited IITA's support in efforts to drive agricultural commercialization in the locality. In addition, he solicited IITA's support in the locality's efforts to drive agricultural commercialization. In addition, he expressed gratefulness to ATASP-1 for the access road to farms and other infrastructural development in their LGA. "Life is in the farm," the political leader said while encouraging his people to take ATASP-1 seriously, as it offers practical solutions to their challenges.
The field day witnessed a large turnout of women, men, youth, clergy, traditional rulers, farmers, and government officials. The one-day event was organized by the cassava value chain under ATASP-1 and attended by cassava farmers' groups and processors drawn from nine villages in two LGAs of Udenu and Isi-uzo: Obollo-Eke, Agu-Orba, Ezimo-Agu, Imilike-Agu, Mbu, Ikem, Isu-Ehamufu, Amede, and Neke. The LGA is the home base of Enugu State Governor, His Excellency  Ifeanyi Ugwuanyi.
Before the event commenced, Richardson Okechukwu, ATASP-1 cassava commodity specialist, led the lead farmers, the cassava team, outreach team, and the zonal program team to inspect some of the cassava fields where TME 419 and TMS 30572 varieties were planted. He certified them to be in good condition, –an indication that the previous training given to farmers under ATASP-1 were beneficial. "We want you to make more money from cassava," Okechukwu said while he took the participants through a detailed presentation on the entire value chain and Good Agricultural Practice (GAP). In addition, the participants were provided training on how to make confectionery and other value-added products from cassava. Okechukwu also announced that ATASP-1 will build a processing center for them, which was well received.
The high point of the event was the distribution of cassava stems to farmer groups. A beneficiary, Christian, described the gesture as "the best gift of the year. I have looked for these stems with money but could not get them. Now, I have them free."
The Permanent Secretary, Ministry of Agriculture, Enugu State, Ogbonnaya Idika appreciated ATASP-1 for bringing new, agricultural innovations to farmers in Enugu State. He was grateful for the improved cassava stems provided by IITA. He advised the farmers to plant and multiply the stems given, and extend it to other farmers in Enugu State.  "We are interested in improving the livelihood of cassava farmers through training in the right technologies to achieve high yields and link farmers to market. We have a strong linkage with agro-industry that will buy up your produce and we would give you the improved cassava varieties after the training that will achieve high yield and give good income," the Zonal Program Coordinator of ATASP-1 in Adani-Omor processing zone, Romanus Egba said.