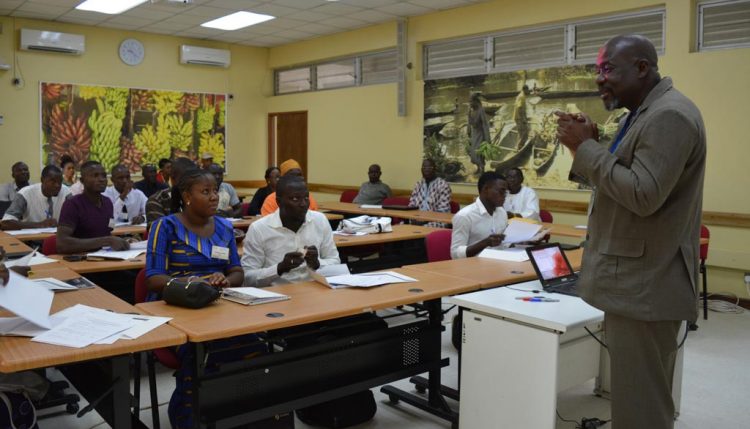 STMA trains Francophone stakeholders on proficiency upgrade
A 5-day training course on variety testing and seed production of open-pollinated and hybrid seed was held 21–25 August at IITA, Ibadan, for stakeholders from Francophone partner countries of the Stress Tolerant Maize for Africa (STMA) Project.
The training aimed at upgrading the skills of field technicians, seed specialists of public and private institutions, and production managers of seed companies in the conduct and management of field trials, techniques of quality seed production, and management of seed business, particularly hybrid maize seed. Nineteen participants from Mali (10) and Benin (9) took part in the course. During the training, the representatives were briefed on the major achievements of the Drought Tolerant Maize for Africa (DTMA) Project which has now metamorphosed to STMA.
Speaking at the opening session, Michael Abberton, IITA Deputy Director, Research for Development, West Africa, applauded the participants and wished them a successful course. He went on to highlight the significance of maize and seed systems as a key component of the value chain. "Maize is not only a major food crop important for food security, but it is also used as a key input in animal feed industries. The crop has become a major source of household incomes and provides employment to input dealers and other auxiliary service providers," Abberton stated.
Baffour Badu-Apraku, IITA Principal Scientist, and Maize Breeder explained that the training was necessary to instill a better understanding of handling variety and inbred line maintenance and breeder seed production of STMA techniques to participants. "…This training course is very important. At least 60% of the course time will be devoted to hands-on experience. This will guarantee good skills, a full understanding of maize variety testing, and seed production," Badu-Apraku said.
A maize selection expert, Coulibaly Mamadu, from Mali, expressed his heartfelt appreciation for the training and assured the dissemination of the experience, knowledge, and information received to other seed experts in Mali.
As a way of ensuring strong partnership and encouraging innovation for sustainable maize production among the participants, Tahirou Abdoulaye, IITA Outcome/Impact Socioeconomist for West Africa, highlighted the urgency to effectively and efficiently produce foundation and certified seed of both open-pollinated and hybrid varieties in their respective seed companies. "I am positive that if the participants put all the experiences acquired into practice, they would greatly improve their performance, skills, and capabilities," he added.
The training comprised lectures, demonstrations, practical sessions, and assignments. Presentations were made on constraints to maize seed production and deployment, facilitating the establishment and operation of seed companies, various experimental designs, management of trials and seed production fields, data collection and analysis, types of maize varieties and hybrids, mechanics of seed production of open-pollinated hybrids, and community-based seed production.
In conclusion, Dr Laouli Mohammed Nasser urged the participants to put into practice the knowledge they learned and replicate it in their respective countries.
STMA is coordinated by the International Maize and Wheat Improvement Center (CIMMYT) and IITA. It is funded by the Bill & Melinda Gates Foundation and the United States Agency for International Development (USAID).