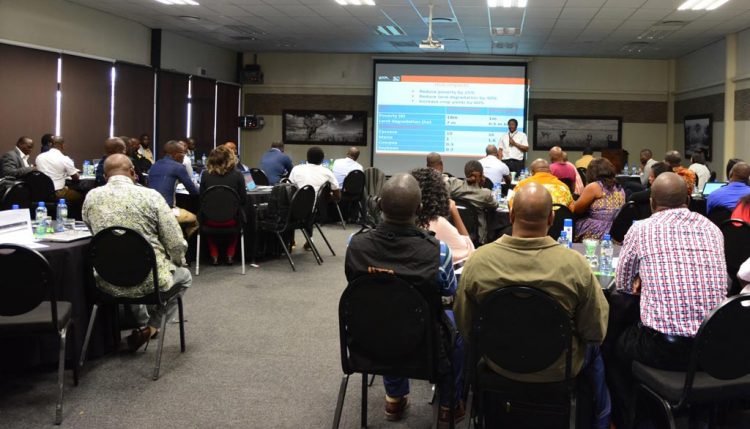 IITA-SARAH holds annual Hub retreat
On 21-25 August, staff of the IITA Southern Africa Research and Administrative Hub (SARAH) converged at the David Livingstone Safari Lodge in Livingstone, Zambia, to hold their annual regional Science Week and Retreat. Around 80 members of staff based in Zambia, Malawi, and Mozambique—as well as invited guests from IITA-HQ and IITA-Nairobi—attended the 5-day event.
"It is always a good feeling when the region gets together during our annual Hub retreat," said David Chikoye, Regional Director for Southern Africa, speaking at the opening of the event. "I cannot overemphasize the importance of this retreat especially as we continue to grow in both scientific scope and staff numbers. Although it is imperative that we keep ourselves apprised of what others in the region are doing, it is equally important—if not more so—that we physically come together to renew and strengthen our bonds as colleagues and friends."
"Despite the difficult challenges that we currently face as an institute, we can always surmount them with teamwork. And this is what this retreat is all about: keeping alive and strengthening the team spirit of the Hub," he added.
"To those who are coming to Zambia for the first time, I welcome you to the country. And to those who have recently joined us in the region, I welcome you to the IITA SA Hub family. However, always remember that where you are based is just your 'residential address'; at the end of the day, we are all still one IITA," he emphasized.
At the retreat, scientists and project managers based in the region presented the activities, results, issues, and challenges related to their respective research and projects. A total of 26 scientific presentations were made under the following thematic areas: Crop Improvement and Biotechnology; Plant Production and Plant Health Management, and Natural Resource Management; Food Science and Nutrition; and Socioeconomics and Technology Dissemination.
Additionally, topics related to youth-in-agriculture, finance and administration, internal audit, risk management, HR, and communication were also presented and discussed. Some of these topics were presented by colleagues from other IITA stations such as Patrick Kamau (internal audit) from IITA-Kenya, Oyedeji Musendeeq and Kayode Owabajo (risk management), and Helen Adeniji and Kunle Fatai (human resources), all from IITA-HQ.
A sea of gold – SARAH retreat participants having some sun and fun during the teambuilding exercises.
A special presentation on Gender Awareness was also delivered by Titilope Yewande Fakoya of the African Women in Agricultural Research and Development (AWARD).
A highlight of the retreat was the team-building exercise facilitated by the HR Unit. The exciting and fun-filled exercise, which served as a fitting culminating activity for the retreat, aimed at promoting teamwork and strategic group thinking among the participants.
The retreat was also punctuated with a cocktail, which also served as the region's own celebration of IITA's 50th anniversary (see related story below). The participants were also treated to a sunset cruise and closing dinner along the picturesque Zambezi River.
Malawi was named as the host of next year's edition of the SARAH retreat.