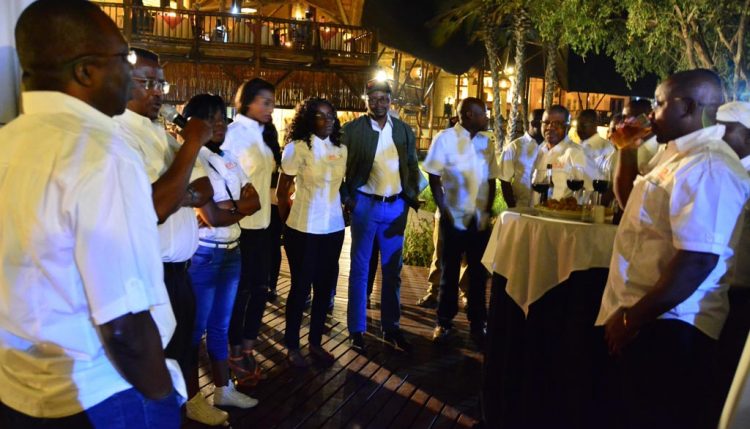 Southern Africa Region celebrates IITA's Golden Jubilee
As a complementary event to the SA Hub retreat, regional staff also celebrated IITA's 50th founding anniversary with a cocktail on 21 August at the David Livingstone Safari Lodge, fronting the scenic Zambezi River.
At the anniversary cocktail, staff raised a toast to IITA on its Golden Jubilee, with some delivering congratulatory messages. A ceremonial 50th anniversary cake-cutting was also held to commemorate the event.
Steve Boahen, Deputy Regional Director for Southern Africa, recounted how he started with IITA and how he witnessed the growth of the region. "I still remember vividly when I was first hired by IITA as a scientist based in Mozambique about 12 years ago. We were very few back then, and we were housed in a squalid office in downtown Nampula."
"Then just last month, we inaugurated our brand new research station in Nampula. It's amazing how the station—and the Hub—has grown. With this, I congratulate IITA, and every member of this great institute, on our 50th anniversary. May we continue to grow and prosper!"
Engr Oyedeji Musendeeq, based at IITA-HQ and who has been with the institute for more than 20 years, had this to say: "I would like to thank SARAH, particularly Dr Chikoye, for inviting me to participate in your retreat. It is my extreme honor to also be a part of your celebration of IITA's 50th birthday. All I could say is that I am very, very impressed by the camaraderie of the SARAH staff, which I think represents the spirit of staff across IITA."
IITA's 50th birthday cake during the SA region's celebration of the institute's Golden Jubilee at the SARAH Retreat cocktails.
"I therefore raise a glass to you, to us, and to IITA. Congratulations on our Golden Jubilee!" he exclaimed.
"I am deeply honored to be hosting this year's retreat, and the region's celebration of IITA's 50th founding anniversary, on behalf of SARAH," said Chikoye. "I believe that the team spirit shown here tonight is what has maintained IITA through these years—through all the ups and downs, and successes and challenges."
"I see all of us in white—equals, with the common vision of making IITA successful as it was originally founded to be. It reminds me of when we were still in primary school. Come to think of it, we are all still students—continuing to learn of how we could make Africa a better place through research," he added.
"Let us all raise our glasses to IITA's 50th birthday. Here's looking forward to another 50 years of great work!" he concluded.