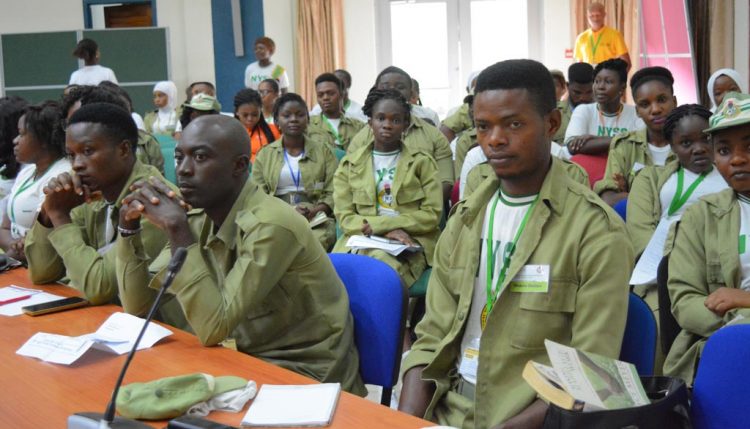 How do we attract and retain youth in agriculture?
Batch B 2016 Youth Corps members in IITA organized a seminar on 20 September titled "Attracting and Retaining Youth in Agriculture" at IITA in Ibadan. The seminar was attended by corpers and members of youth Agripreneur groups, and dignitaries from different organizations.
The seminar aimed to create awareness and introduce youth to agribusiness and the agricultural value chain. It also addressed how the youth can get involved in agriculture, and learn from the experiences of other youths who have gone into agribusiness, and also identify how the youth can contribute towards agricultural development regardless of their discipline.
The seminar started with a welcome address from Kenton Dashiell, Deputy Director General, Partnerships for Delivery, IITA, who advised the Corps members to take the seminar as an opportunity to improve.
Miriam Umogah, the Coordinator for Oyo State NYSC Skill Acquisition and Entrepreneurship Development (SAED), representing Ifeoma Anidobi, NYSC State Coordinator for Oyo State, said: "… Today in Nigeria, the Federal Government has put so much importance on youth empowerment, and the most important part of it all is agriculture, in which IITA is doing very well. IITA has always been an NYSC partner. It has been helping us achieve the aims and objectives of the scheme, one of which is to instill in the youth the spirit of selflessness, surveillance, and nationalistic approach to issues."
The keynote speech was given by Molayo Owoeye, Head of Capacity Development for IITA Youth Agripreneurs (IYA), on "Agricultural transformation in Africa: The role of youth". She said that agriculture shouldn't be a career for only old people, and youth should not think that being a farmer amounts to getting their hands dirty, since technology has made farming more attractive.
Hon Kehinde Ayoola, former speaker, Oyo State House of Assembly who spoke on "Understanding the agricultural value chain: Seeing the big picture," said that "government is getting more serious with agriculture and today, they are even providing start-up capital." He further said that understanding the agro-value chain can help to "bind the nation together."
"We would be able to retain a lot of youth in agriculture when we have youth that have sworn allegiance," said Tope Omotolani from Farm Crowdy Nigeria, who spoke on "Becoming an agric entrepreneur: The basics." In addition, she said: "We need to look for that area we are passionate about; agriculture is a big community. We welcome as many people in different sectors as possible. She advised the youth to "go through the value chain, and see where you can function properly." She announced that Farm Crowdy would like to sponsor 50 Youth Corps members
in IITA who love agriculture, by identifying any crop they would like to work with and 100 hectares of land, under the supervision of IITA.
Oludare Odusanya, IYA Head of Production, while giving a practical demonstration of a start-up business said: "Agriculture is cool and is very profitable to those who know what they are doing."
Three young CEOs of agricultural organizations, Hammed Oni from Frotchery Farms Ltd, Jacinta Eze from Agropreneur Naija, and Adenuga Adeniyi from Tepebo International Ltd. talked about their success stories and their journey into the agricultural sector. They spoke about the challenges they had encountered and how they held on to their passion for their business against all odds. While advising the Corpers, Jacinta said: "Do not be afraid to work with people who are more experienced than you are; be humble to reach your dream." Adenuga said that he would not be who he is today if not for agriculture.
The Director General of IITA, Nteranya Sanginga, commended the Corps members for their zeal and initiative for organizing the seminar. He told them to come up with unique creative ideas. He said they should bring the ideas to him, and they will get all the support they need. He concluded by saying: "My advice is don't wait for things to happen; go and make things happen."