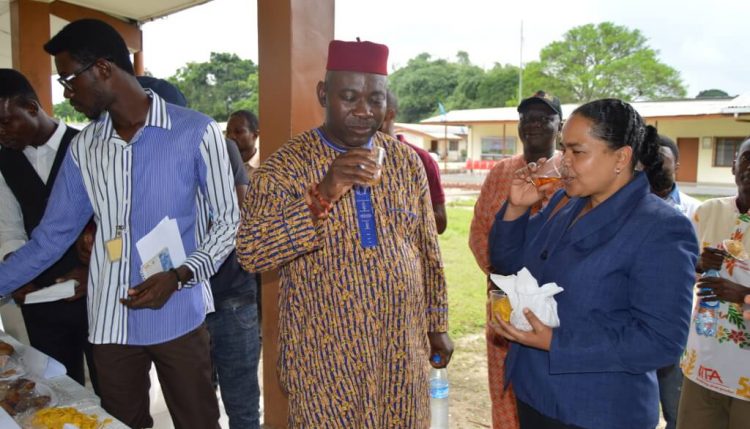 SPDC and IYA explore areas of collaboration
The Shell Petroleum Development Company of Nigeria (SPDC) and the IITA Youth Agripreneurs (IYA) are discussing the development of a model that will incubate young farmers in sustainable agribusiness and have a positive multiplier effect on a wider population.
Ms Anike Kakayor, Partnership Coordinator, Social Investment, SPDC, during the meeting, said that they are looking at creating jobs for young farmers, reducing postharvest losses, and increasing agricultural efficiency in the zones of the Niger Delta covered by SPDC.
Dr Richardson Okechukwu, Head of Station, IITA Onne, accompanied by Evelyn Ohanwusi, Interim Head, Youth in Agribusiness office, and the IYA team from Imo and Onne, received the delegates from SPDC consisting of Kakayor and Ayobami Ikuemonisan (Social Investment Partnership, SPDC) on 19 September.
During his presentation, Okechukwu said IITA Onne—the second largest station after Ibadan—is a center for plantain and banana production with the largest conservation of Irvingia spp. or "wild mango" in the world. It is an agribusiness training center in the South-South and South-East zones of Nigeria. He recalled past partnerships that IITA has had with Shell in 2008 when the Cassava Enterprise Development Project (CEDP) complemented the Preemptive Management of Cassava Mosaic Disease project funded by the Federal Government. The former project focused on processing, marketing, and enterprise that covered the Shell locations in the Niger Delta. The CEDP recorded tremendous successes that also involved on-farm training; linkages between agricultural institutions, farmers, and markets; micro-processing centers and postharvest equipment training and products. The other project focused on breeding and production.
Giving a brief history of the Youth Agripreneurs, Timi Obaila (IYA Onne representative) said that they had been privileged to learn technologies first-hand in Ibadan. The need to reach out to other young people necessitated the setting up of incubation centers including the one at Onne, Rivers State in Nigeria and in other countries. These have diversified into profitable enterprises, increased the capacity of the youth in agribusiness, and provided guidelines for organizations on how to establish successful incubation centers. IYA has partnered with several organizations including the Chevron Project that is empowering more than 120 young adults in Warri, Delta State.
He concluded, "The youth in the Niger Delta are looking for the easiest way to make money and do not think that agriculture is the future, but IYA has been able to productively engage educated and uneducated young people by changing their mindset."
A beneficiary from the Chevron project in Warri corroborated the statement about the change in mindset, saying "I have seen the difference between agriculture and oil business theft! Agriculture has made me change from vandalizing pipelines and street life. It has transformed me into a better person. If more than a thousand like me can be trained in agriculture, there will be a change in youth behavior."
Kakayor also said that it was very encouraging to see that some young people are now productively engaged in agribusiness, and that the IYA model looks very exciting. The two groups agreed on more discussions to tailor the program.