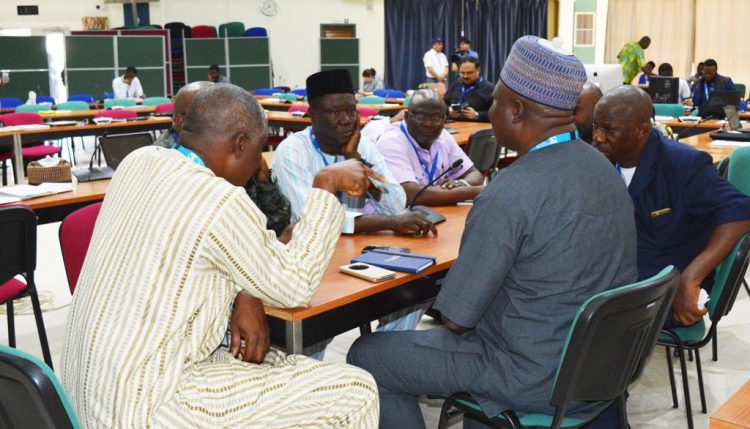 Stakeholders reveal significance of seed testing
Control measures against pests and diseases dominated discussions at a recent workshop in IITA, Ibadan, held 27-28 September, where stakeholders explored opportunities to interact, exchange ideas, and impart knowledge about major pests and pathogens of maize, risks to maize seed health, and seed-borne pathogens.
The 2-day workshop with the theme "Maize seed health and seed testing for pests and pathogens" was in line with the seminar on strategic planning to prevent the spread of Maize Lethal Necrosis (MLN) disease. The meeting, attended by maize breeders, scientists, staff, and students of IITA, the Plant Protection and Regulatory Services Directorate (PPRSD), the Ghana, National Agricultural Seeds Council (NASC), the Nigerian Agricultural Quarantine Services (NAQS), and the International Maize and Wheat Improvement Centre (CIMMYT), aimed to inform participants about techniques that can be adopted to produce disease- and pest-free seeds, and demonstrate laboratory methods of seed health testing.
Pathogens and pests can adversely affect germination, cause seedling infection, and damage mature plants. The transmission of fungal and bacterial pathogens from seeds to crops can vary considerably depending on growing conditions. Diseases caused by viruses usually have higher transmission rates than those caused by fungi or bacteria, and are less affected by seasonal conditions. Pest and pathogen diagnosis and pest survey procedures are essential parts of seed health support.
In his opening remarks, Lava Kumar, Head, IITA Germplasm Health Unit and focal point for the seminar, acknowledged the stakeholders for their collaborative effort, and encouraged them to continue curbing seed-borne pathogens to ensure food security in the region.
During the plenary session, presentations were made on virus threats to maize and diagnostic tools for seed health, preemptive breeding for MLN, surveillance for MLN, modelling for MLN spread, methods for the production of MLN-free seed, and diseases of maize.
According to Monica Mezzalama, Head of CIMMYT's Seed Health Unit: "Seed is the most efficient way of spreading diseases over long distances; because of that, we need to ensure that our seeds are tested and certified free before we can sow."
Boddupalli M. Prasanna, Director of CIMMYT's Global Maize Program, highlighted the importance of improving MLN surveillance and diagnostic capacity in Africa to keep the virus from spreading through contaminated seeds. "Farmers also need to be sensitized on appropriate agronomic practices that reduce disease incidence and severity," he added.
The best method to reduce the risk of disease damage is to source pathogen-free seed. Testing seed before sowing will establish whether seed is free of disease. It is also best to select seed from crops that show no sign of disease. Seed with high levels of seed-borne disease should not be used for sowing. For some fungal diseases, it may be possible to reduce the risk of disease by applying a fungicide to seed prior to sowing.
At the end of the workshop, participants were taken to the Germplasm Health Unit for practical demonstrations on how to test seed viruses and pathogens, and observe microbes.