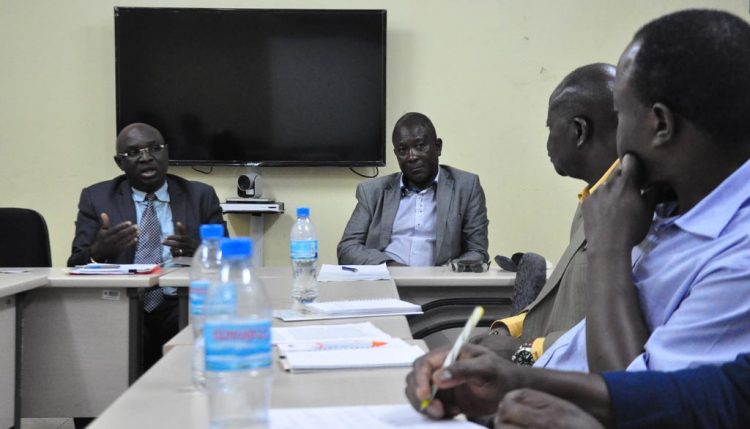 IITA delegation calls on Tanzania's Permanent Secretary in the Ministry of Agriculture
A team from IITA Tanzania recently visited the new Permanent Secretary (PS) in the Ministry of Agriculture, Food Secretary and Livestock (MALF) at the Ministry's offices in Dar es Salaam, Tanzania.
The PS, Eng. Mathew Mtigumwe, was appointed towards the end of last year. The visit was intended to brief him on IITA and its activities in the country as well as highlight areas of future collaboration and support needed from the government.
The delegation was led by Victor Manyong, IITA Director for Eastern Africa. In his briefing, Manyong extended IITA's appreciation for the wonderful cooperation and support it had received from the Government and the Agriculture Ministry in its over 23 years of operations in Tanzania as he highlighted IITA activities in the country and its successes in the last five years.
He also raised some of the challenges that the institute was facing in the country and ways in which the Government can help address them.
Some of the successes he mentioned included the release of over 20 improved cassava varieties tolerant to the two deadly viral diseases and developed in partnership with national researchers; the introduction of integrated soil fertility management practices including the use of biofertilizers for legume production, cassava processing and value addition; and building capacity.
Manyong said IITA had in the last five years invested over US$57.6 million in the country including payment of salaries of the nearly 150 members of staff, infrastructure development as well as projects implemented in the country.
Under capacity building, the institute had hosted over 150 postgraduate (PhD, MSc) and undergraduate students for their research projects and internships and trained more than 50,000 farmers in various areas of crop production, value addition, and nutrition.
"We have also developed an effective and affordable technology to control aflatoxin contamination in the country. It is awaiting registration before being rolled out in the country," Manyong said.
The PS was pleased to note that IITA's activities were well aligned to those of the Government's and tasked the various departments to address some of the issues raised.
He was accompanied by Nkuvililwa Simkanga, Director of Policy and Planning; Twahir Nzallawahe, Director of Crop Development, and Jakson Nkuba, Assistant Director of Research and Development.
Manyong was accompanied by Fred Baijukya, N2Africa Country Coordinator; George Mahuku, Plant Pathologist; Eveline Odiambo, Regional Administrator; Catherine Njuguna, Regional Communication Specialist; and Neema Lazaro, Procurement Officer.
On future plans, Manyong pointed out that IITA was positioning itself to address challenges in the agriculture sector including emerging diseases such as the new banana disease threat, Tropical Race4 or Panama 4 disease, which was already in Northern Mozambique, and the fall army worm which was spreading across Africa destroying maize.
Manyong concluded the visit by inviting the PS to visit IITA at its headquarters in Nigeria.