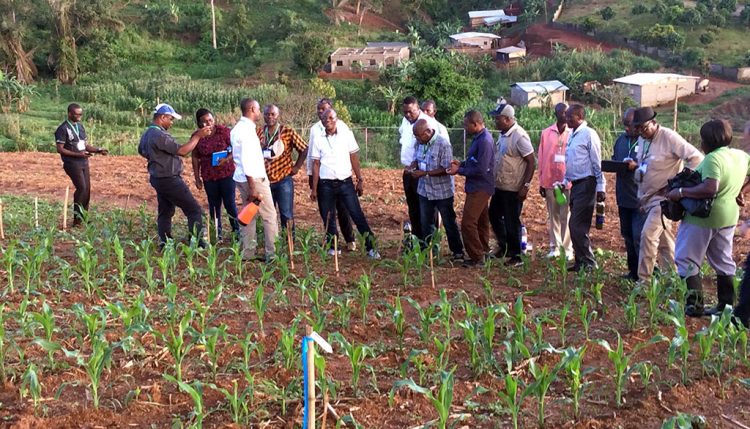 IITA Cameroon hosts training on managing fall armyworm
IITA-Cameroon hosted an international training of trainers' workshop on Fall armyworm management at its campus in Yaoundé, on 2–7 October. The workshop was co-organized by IITA-Cameroon and FAO's subregional office in Central Africa.
The fall armyworm (FAW), an invasive insect species originating from tropical and subtropical Americas, is spreading rapidly in sub-Saharan African where it is causing enormous crop losses and posing a huge risk to food security. While maize is presently the most
damaged crop, FAW is known to affect more than 80 other crop species, including rice, cotton, sorghum, wheat, and several vegetable crops.
The workshop was attended by 40 participants from eight Central African countries. Technical support was provided by entomologists from IITA-Cameroon (Rachid Hanna, Apollin Fotso, Rose Ndemah, and Albert Abang), IITA-Benin (Georg Goergen), DR Congo (C. Koko Nzeza), the University of Douala (Maurice Tindo), and five staff from FAO headquarters in Rome and the FAO subregional office in Libreville, Gabon. The participants were joined via Skype on three successive days by Dr Rob Meagher (USDA-ARS, USA), Dr William Settle (retired Senior Technical Officer, FAO, USA), and Dr P. Lava Kumar (IITA, Nigeria). They covered topics such as, respectively, the use of pheromones in monitoring FAW, the potential for nuclear polyhedrosis virus for FAW control, and the threat to Africa posed by maize lethal necrosis (MLN).
The opening ceremony was presided over by Her Excellency Clémentine Antoinette Ananga Messina, the Cameroon Minister Delegate for Agriculture and Rural Development who echoed earlier comments by Hanna, IITA-Cameroon Country Representative. Helder Muteia, FAO subregional director for Central Africa, highlighted FAW's ominous threat to agricultural production and food security, and encouraged the participating countries to make maximum use of the workshop to gain knowledge and acquire the tools for reducing the threat of FAW in their countries.
Hanna also reminded the participants of previous continent-wide invasions by other destructive pests—the cassava mealybug and cassava green mite—that had similarly caused enormous threats to sub-Saharan Africa's food security, and how both species were successfully controlled with science-based research led by IITA and collective efforts of all those who have an interest in improving the livelihoods of populations that depend on agriculture. He expressed optimism that similar collective efforts could help in solving the FAW problem.
The fourth day of the workshop included visits to four IITA-Cameroon laboratories (biological control and entomopathology, molecular biology, analytical, and tissue culture). Participants greatly appreciated the science being conducted in the laboratories and the potential for using them for capacity development and services in the subregion.
In closing, Atanga, representing the FAO office in Cameroon, Winfred Hammond, FAO consultant in charge of coordinating FAO's FAW response in sub-Saharan Africa, and C.S. Nying, Director of Cameroon Agricultural Regulatory Services, implored the participants to make best use of the excellent information and interactions offered by the workshop in the completion of the action plans for managing FAW in their respective countries. They also promised continued support for a Central African platform for continuous exchange of knowledge and experiences to be used in reducing the threats to food production and food security in the subregion.