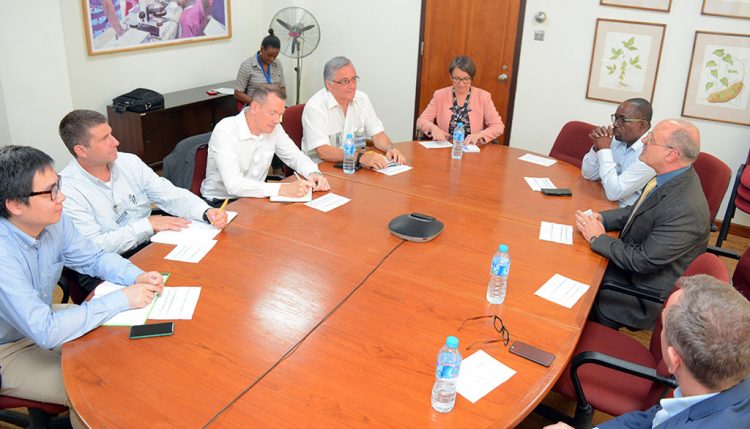 World's biggest fragrance and flavor company seeks collaboration
Hoping to boost production at its newly established facility in Nigeria, representatives from Firmenich visited IITA Ibadan, on 9 October, to share knowledge, exchange ideas, discuss possibilities, and seek future collaboration.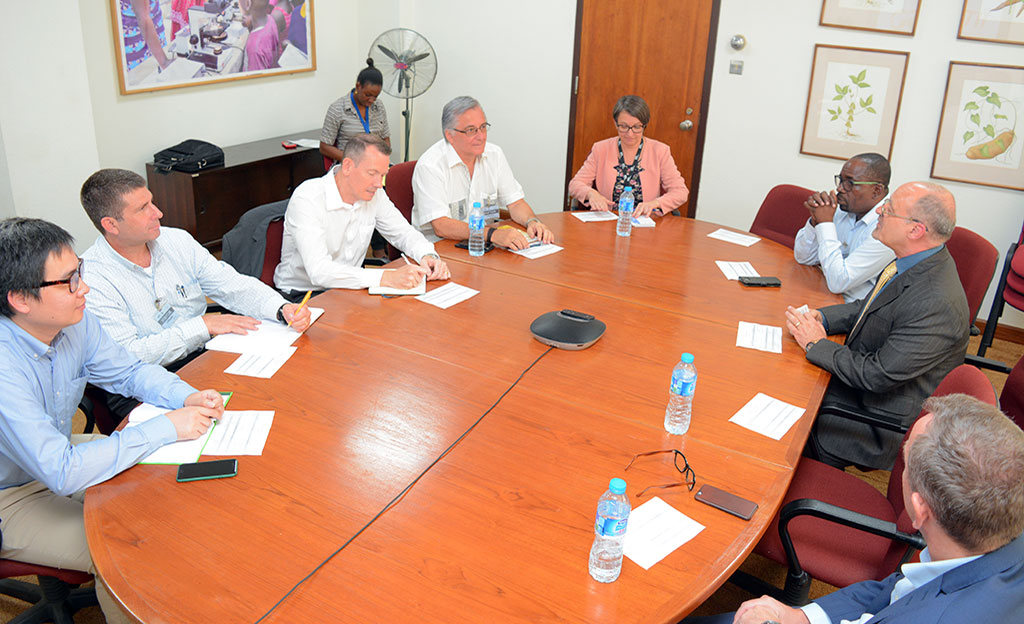 A team of six led by Thoger Larsen, Firmenich Flavor Vice President, India and East Africa, and Flory Kimvangu, successor to Oddvar Bjorge, General Manager, and Commercial Director West Africa, was received by Kenton Dashiell, IITA Deputy Director General, Partnerships for Delivery, and May-Guri Saethre, IITA Deputy Director General, Research for Development. Dashiell welcomed the delegates and assured them of unending commitment and partnership. "IITA as a leading research institute can partner with your organization, to help identify possible ways of sourcing raw materials, for efficient production in the new state-of-the-art flavors facility, in Lagos, Nigeria. But if you source locally, and you like what you are seeing, then you can go for it without our intervention," he said.
While conducting the visitors round IITA Business Incubation Platform (BIP) facilities, which includes the aflasafe™ (a biocontrol product for controlling aflatoxins) production plant, NoduMax, a soybean inoculum fertilizer, and IITA Youth Agripreneurs (IYA), a community of vibrant youth who are attracted to agriculture, Thoger was amazed at the impact of IITA's research. "I applaud the management for a good job and I
am convinced that my team and I are satisfied by what we have seen…our mission of coming to IITA cannot be in vain," he added.
Concurring, Flory expressed, "We have spent over a year trying to establish solid ground in Nigeria with the right partners, but now we have found one…With what I have seen, I am guaranteed that with the help of IITA we will exceed our expectations".
On that note, the Firmenich team pledged to revisit IITA to further cement their relationship and solidify a partnership. Saethre appreciated their effort as she said, "This is moving one step forward; we are looking forward to seeing and hearing your success stories."
Firmenich is the world's largest privately owned company in the fragrance and flavor business.