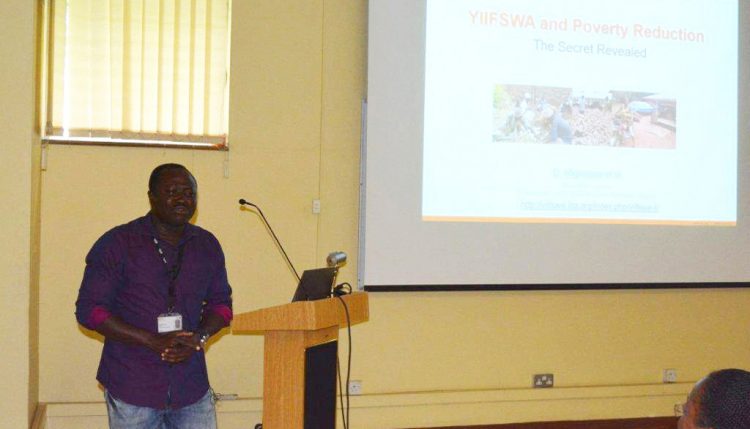 YIIFSWA and poverty reduction: The bared secret
At a recent seminar, Yam Improvement for Income and Food Security in West Africa (YIIFSWA) Project M&E Specialist, Djana Mignouna, recently talked about Africa's struggle with poverty. In his presentation, he stated that the agricultural sector is essential for reducing poverty with about 43% of sub-Saharan Africa still battling poverty. Africa's contribution to the global grain supply of maize is about 5%, rice and wheat 3% each, and leads in the supply of cassava and yam by 50% and 95% of the world production, respectively.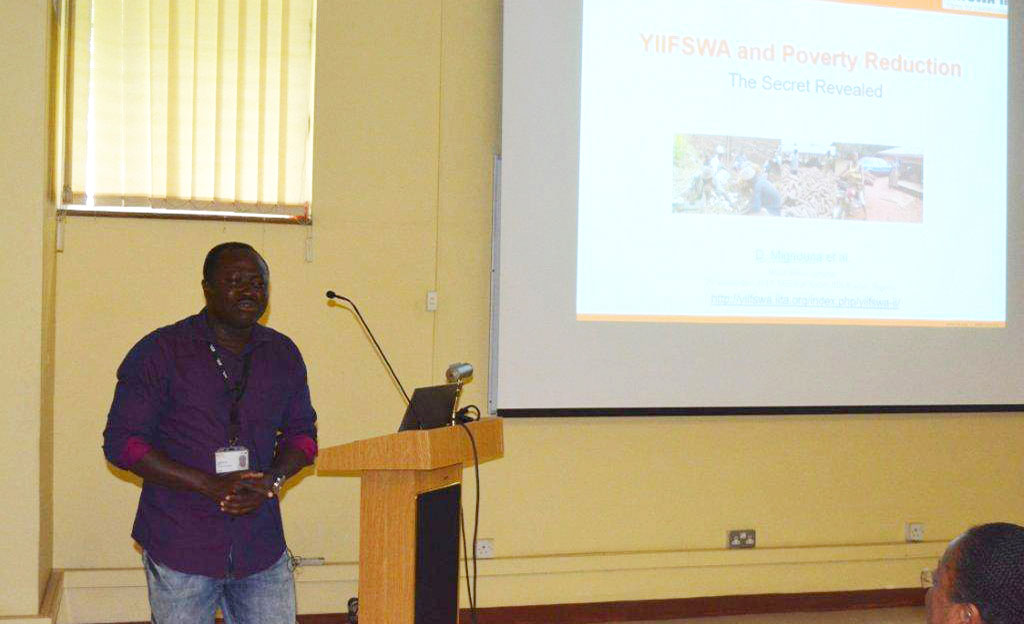 Yam production has always faced challenges such as the unavailability and high cost of high quality, disease-free seed yam, high levels of on-farm losses of tubers during harvesting and storage, low soil fertility, high labor costs associated with land preparation, and diseases from pathogens and pests.
YIIFSWA's goal is to increase yam productivity by 40% for 200,000 smallholder yam farmers in Ghana and Nigeria through the establishment of functional pre-basic seed yam units, reliable basic certified seed yam producers, and reducing tuber pest damage in storage barns, thereby increasing food security and reducing poverty.
The Yam Minisett Technology (YMT) is one of the technologies that has helped in moving people out of poverty. YMT was developed in early 1970s by NRCRI and IITA to address the challenge of seed quantity and quality. It involves cutting yam tubers into small setts of 25–50 g, and increasing the multiplication ratio from the traditional 1.5 to 1.30. It was modified into AYMT (Adaptive Yam Minisett Technology) to address farmers' complaints about the size of tubers produced incorporating the use of up to 80 g setts and chemical treatment to reduce pest and disease pressure. He revealed that AYMT had incremental yield estimates of 15.9% in Ghana and 12.3% in Nigeria.
Mignouna concluded by stating that YIIFSWA in its first phase succeeded in reducing poverty among the rural population by about 10%, translating into 144,217 individuals that were moved out of poverty in both Nigeria and Ghana. This was confirmation of the AYMT project's potential to curb poverty in yam growing areas and among the farming households.