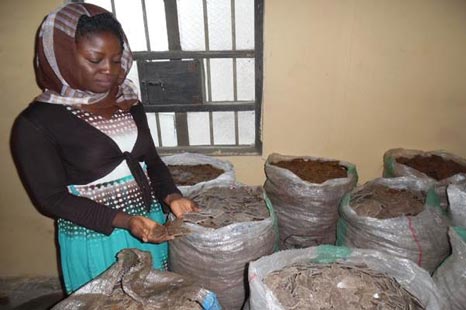 1
N2Africa success story: Nigeria
The N2Africa project is working through sustainable, long-term partnerships to enable Nigerian smallholder farmers to benefit from symbiotic N2-fixation by grain legumes through effective production technologies including inoculants (NoduMax) and phosphorus fertilizers. The project focuses on cowpea, groundnut, and soybean and has reached has reached 50,000 farming families in Benue, Kaduna, Kano, Kwara, and Niger states and the FCT and 15,000 farming families in Borno State as at the end of 2016 cropping season.
The project also has a strong focus on engaging youth as agents of change towards increased food production, improved livelihoods, and reduced unemployment. This is being done through mentorship and capacity building on new agricultural production technologies, entrepreneurship development, provision of starter packages, and facilitating access to credit. Due to N2Africa's intervention in partnership with IITA Youth Agripreneurs (IYA), young people are beginning to embrace agribusiness as an income generating activity. One hundred and twenty-seven trained youth are currently employed in agricultural value chain business activities.
An Agripreneur's journey: from an unemployed youth to a successful entrepreneur
Mercy Haruna Wakawa from Borno State, Nigeria, was enthusiastic about getting a job after graduating from the University of Maiduguri where she studied Food Science and Technology. However, her dreams crashed when jobs were not forthcoming due to the high rate of youth unemployment in the country.
Today, she is the founder and Managing Director of a successful agribusiness company, Confianza Global Resources that process groundnut into oil and cake for livestock feed. Her journey into agribusiness started with the interventions of the IITA Youth Agripreneur (IYA) program and N2Africa.
"After so many futile efforts to get a job, I was almost at the point of giving up when I got the opportunity to participate in enterprise development training alongside other youths from Borno State in September 2014. I was not really keen but enlisted for the training to just be part of anything. I did not know that something meaningful was going to come out of it. The training was organized by IITA Youth Agripreneurs at the IITA Kano Station. It was a three-week, mind-changing, intensive training, which covered topics in agribusiness, entrepreneurship, ICT in agribusiness, fish farming, and science-driven agricultural practices," she said.
"After the training, hesitatingly and reluctantly, but with counselling and guiding support, I ventured into the postharvest processing of groundnut. The business took off in January 2016. I was given a starter package by N2Africa."
Mercy says groundnut processing is a profitable business as a ton of good groundnut seed produces an average of 450 liters of oil and 400 kg of groundnut cake, which is a major raw material for animal feed. Confianza Global Resources currently employs four youths from the host community. The business has also created downstream livelihood opportunities for many women in sludge processing (sludge is a semi-liquid by-product of groundnut processing used in the soap making industry) and marketing in the host and neighboring communities.
Sixty-year-old trailblazing farmer proves it's never too late to change your mind!
For many years 60-year-old Clement Hange from Mbanor in Konshisha Local Government Area of Benue State, Nigeria, was content with the output from his farm. That was until he was selected as a lead farmer to take care of a demo plot for his farmer group "Hange Multi-Purpose Cooperative Society Ltd." under N2Africa; then he realized that he could do so much better if he changed his farming practices.
"It all started when I attended pre-season training in 2013 that was organized by one N2Africa partner, MARKETS II, and learned new production technologies for soybean production. I was trained on the best agronomic practices for the cultivation of soybean and received a package of improved seeds, fertilizer, and inoculants, which I planted on the demonstration plot and later in my own farm. The demonstration plot gave me and the group more insights into the use and the benefits of the new technologies," he said.
"My soybean farm was doing very well with the improved practices. The improved variety gave a yield of 1760 kg/ha while I only got 400 kg/ha from the local variety without using the inoculant. Soybean production in the cooperative has improved with the intervention of the project in terms of training and input provision. Now we not only produce but sell as well. MARKETS II has linked us to an organized market to sell our produce—the processors Hule & Sons Limited in Tarka LGA and Seraph Oils Limited in Makurdi through a formal agreement. MARKETS II has also purchased a multipurpose thresher for my group. This has made threshing very easy and we can handle increased production easily," he said.
In 2016 the cooperative cultivated about 4 ha of soybean while he cultivated about 6 ha, which he intends to increase to 10 ha in 2018.
In addition to grain production, the group has also been producing and selling seeds to interested farmers in the community.
On their next steps: "We want to diversify our farming and start cassava production as well as increase the area under soybean production. We are presently discussing with some banks to enable more members to have access to finance to increase their cultivated land under production as well.
"Thanks to MARKETS II and N2Africa for the immense support and knowledge to help us find our feet."
Habakuk Mijinyawa: From peasant farming to commercial farming
In a small rural community called Dutsen Gaiya located in Kajuru Local Government Area of Kaduna State (Southern Kaduna), lives a young enterprising farmer Habakkuk Mijinyawa. In his thirties and married with children, Habakkuk did not study beyond primary school due to financial constraints. As the first born, he quit school to engage in menial work in the community to support himself rather than depend on his poor parents.
He learnt masonry work, which he did alongside farming. However, he realized that farming was more profitable so decided to invest more in farming on his parents' land. In 2012, when N2Africa was first introduced in Kajuru LGA, Habakkuk was selected as one of the Project's Lead Farmers and received training and inputs for demonstrations. He has continued to put into practice what he learned with great results.
"I noticed that the soybean variety disseminated by N2Africa in my community outperformed most of the local and other varieties. I therefore decided to preserve the seeds for future use. Honestly, I feel very excited being part of N2Africa. My earnings have increased, thanks to the Project," he said.
From soybean sales, he acquired more farm land and cultivated mainly soybean and groundnut. When his father passed on, leaving behind a large family for Habakkuk to care of, he has been able to cope with the added responsibilities through farming. He even completed the family house that his father had started constructing.
Habakkuk attributes his success to N2Africa and the Tropical Legume II project.