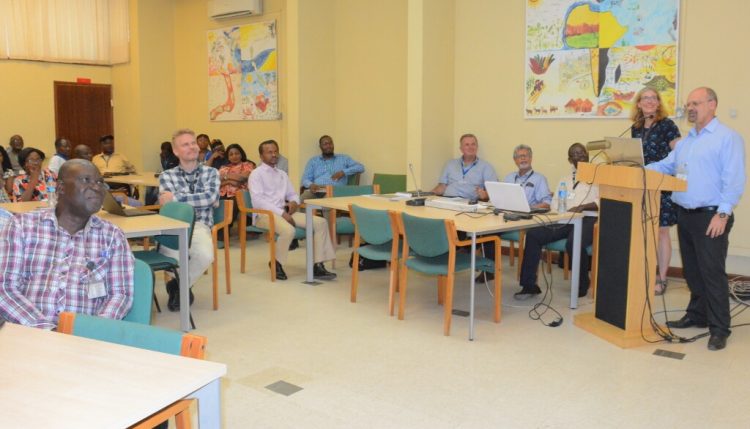 IITA launches FMS online database system
IITA Facilities Management Services (FMS) launched its web database platform on 31 October at IITA, Ibadan, to enhance online communication between the Unit and its clients.
The unveiling of the FMS online project database system was attended by users, contributors, supporters, and collaborators of the database, which comprise the various Directorates, data and information specialists, scientists, and FMS staff.
The newly designed network platform, which was developed and tested by Alexander Mwangi, Software Developer, International Intern at FMS, aims to provide an online monitoring and management platform for FMS projects.
The database interfaces with the IITA User Directory and Oracle, and seeks to provide better customer services, improve communication with clients, provide a clear line of responsibility within a project's lifecycle, and give a clear report on the status of a project to its requestors.
Hilde Koper-Limbourg, IITA Deputy Director General, Corporate Services, commended the entire team involved in the different phases of the development of the database system. "I am impressed because the database was completed on schedule. This day became a reality as a result of your determination and commitment," she said.
While enlightening the audience on the purpose of the system, Waheed Quader, FMS Head, said: "This system provides a key link in a project which makes planning easy, supports a line of authority between the requestors and FMS, and also provides a clear report on the status of any ongoing and past project. Once you start using the database system, you will see the advantages."
Mwangi explained how the innovative technology functions irrespective of the user's location and also outlined the steps that should be taken by clients to request a project. He was then presented with a gift and a farewell card by Koper-Limbourg to commemorate his hard work.
The FMS project database was officially launched by Kenton Dashiell, IITA Deputy Director General, Partnerships for Delivery.