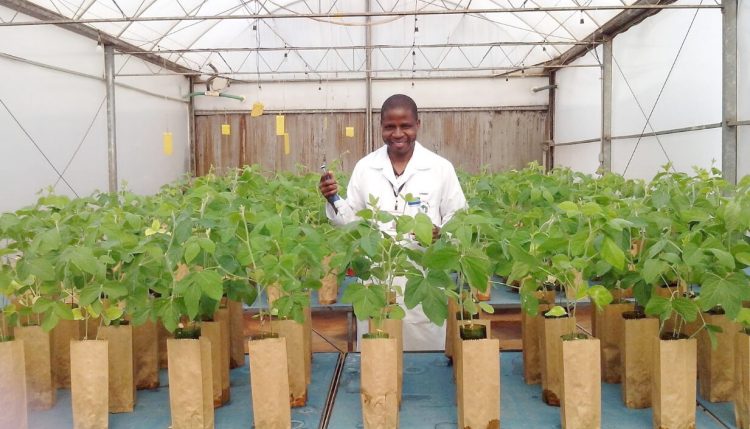 N2Africa success stories: Mozambique
The N2Africa project in Mozambique is now on its second phase and is focusing on scaling out the legume technologies proven under phase 1 using a "business-led" approach. This involved engaging government, development organizations, and the private sector, creating awareness on N2Africa technologies and approaches, and facilitating dissemination campaigns. The project focused on soybean and cowpea agronomy (sowing time, optimal planting density, advantage of improved over traditional varieties, response to fertilizer application, use of inoculants, postharvest handling), the input supply systems, and local capacity building for government extension officers, agrodealers, and individual community seed producers.
More than 25,000 smallholder farmers have been reached by directly hosting on-farm demonstration trials, Train the Trainer training, and field days in Manica, Tete, and Zambézia provinces. Using public–private–partnership approaches N2Africa disseminated four varieties of soybean and two of cowpea. Market linkages were established between farmer associations and off-takers.
Seizing the moment! Maria Miguel Noé moves from farmer to innovative community seed supplier
The emerging entrepreneur is "repairing" the missing link in input supply chains in Mozambique
The smallholder farming sector in Mozambique is relatively underdeveloped and a significant percentage of farmers live in sparsely populated rural areas with little access to inputs. In addition, there is insufficient business to support a conventional brick-and-mortar agricultural retailer. Maria Brigida Miguel Noé, from the remote community of Dumue village, Angónia district, Tete Province, is an emerging entrepreneur who has benefited from the N2Africa Project, and is making progress in providing inputs.
Maria´s involvement in N2Africa began in 2010 when the project initiated a collaboration with the farmers' association Chigwirizano, of which Maria is a member. As a member, she hosted N2Africa demonstration plots on good agricultural practices (GAPs) on soybean production. The practices included improved varieties, optimal plant spacing, seed inoculation, and fertilizer application. The project proved that by using inoculated seed and optimal plant density farmers were able to double their yields (from 0.9 t/ha to 2.0 t/ha).
With the new knowledge from the demonstrations, Maria and her colleagues decided to massively cultivate soybean in their fields as a cash crop. Unfortunately, one stumbling block was the lack of certified and good quality seed. This challenge was the start of Maria's success story as she decided to start a seed production business. With facilitation from N2Africa she got promiscuous soybean varieties to multiply on 3 ha of her 5-ha land. She started an innovative and farmer-friendly model to help farmers in the village access soybean seed of high quality. She provided soybean seed to farmers and each beneficiary paid back with their harvested soybean using a rate of 1:3 (three times the amount received). She then sold the grain to middlemen or big traders such as Cargill.
In the first cropping season she received 25 kg of soybean from N2Africa. In subsequent seasons she bought the seed directly from agrodealers located at Ulongue, the main village in the district or in neighboring villages in Malawi.
"I decided to set up this business primarily to improve my life by selling seeds, but also to help colleagues in the association. Seeing the growing demand for soybean seed, I decided to become the main seed provider in the village, by also growing other crops such as groundnut and maize," Maria said.
Maria is already starting to see her hard work pay off and is confident of a better future. "With the seed business I was able to build a new house, I successfully requested additional land (30 ha) and cattle. When you visit me next season, you will be surprised to see the vehicle I am planning to buy. It is too expensive to rent a car locally to transport produce," she said.
While there is still a long way to go until the seed sector is developed in the country, the long-lasting benefits of N2Africa are becoming increasingly apparent as testified by Maria.
Unlocking the potential of indigenous rhizobia as inoculant to increase soybean yields in Mozambique
Soybean is an important crop for Mozambican farmers due to its many uses in animal feed and human food. It can also fix nitrogen from the atmosphere! However, two problems are frequently reported about the crop's production. The first is that when soybean is grown for the first time, the field generally requires inoculation with effective strains. Even after inoculation, yields are still low due to competition from the indigenous rhizobia populations, which often have low capacity to fix nitrogen but are already adapted to the environment.
While indigenous rhizobia are a great challenge to soybean production, they also provide a hidden opportunity: some have a high capacity to fix atmospheric nitrogen and therefore have potential to be used in inoculants. This was the focus of a four-year (2012–2016) PhD study funded by the N2Africa Project in Mozambique awarded to Amaral Chibeba.
In 2013, Chibeba collected soybean nodules in Manica, Nampula, Tete, and Zambézia provinces, in Mozambique, and extracted rhizobia isolates in Brazil. Chibeba successfully explored the symbiotic potential of the indigenous rhizobia from Mozambique in two greenhouse trials with promiscuous and non-promiscuous soybean varieties against reference strains used in inoculants in Brazil (SEMIAs 587, 5019, 5079 and 5080) and one (USDA 110) used in many African countries.
Five of the isolates from Mozambique consistently showed similar or better nitrogen fixation ability compared to the reference strains. They will be tested in multilocation field trials in collaboration with IIAM (Mozambique national research institute) to confirm their symbiotic potential in the presence of other indigenous and/or commercial strains. This will be a crucial step on moving these strains along the development pipeline towards production of inoculants in Mozambique, reducing the dependency on imported inoculants.