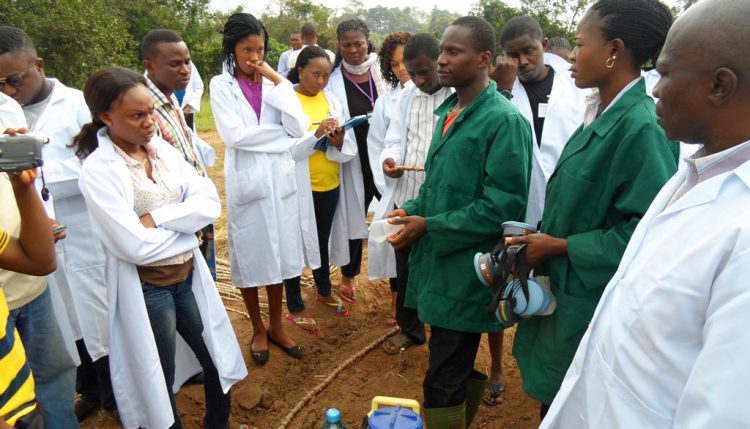 IITA partners with IFAD to launch project on Enhancing capacity to apply research evidence
In keeping with IITA's commitment to support youth development and employment IITA launched the Enhancing Capacity to Apply Research Evidence (CARE) in Policy for Youth Engagement in Agribusiness and Rural Economic Activities in Africa" project. The CARE project is being carried out in partnership with the International Fund for Agricultural Development (IFAD) through its Youth Researching Youth initiative and aims to provide fellowships for young African scholars, with a special emphasis on young female professionals and students. The goal of the project is to enhance the understanding of the poverty reduction and employment impact, and the factors influencing youth engagement in agribusiness and rural farm and non-farm economy. Understanding this and the proper implementation of research findings will significantly increase the evidence of how policies and investments can contribute to economic growth and the enabling environment for Africa youth.
The project targets two categories of young scholars: (1) Academics and professionals at research institutes and universities in Africa, and (2) Youth wishing to pursue Masters or PhD degrees. This will allow the development of the leaders of tomorrow in social science research in Africa.
The specific objectives of CARE are to:
Strengthen the capacity of young African scholars in generating, appraising, and disseminating evidence-based results to inform future action plans for national governments, the international community, the business sector and local communities.
Increase the availability and use of evidence for youth policies and decision-making related to youth participation in the rural sector.
Strengthen the ability of key stakeholders to better use an evidence-based approach in youth economic empowerment in policy development.
CARE ultimately intends to have an impact on youth and their partners' capacities to deliver improved policies and investments that are effective at supporting youth in agriculture.
Both IFAD and IITA have had many years of experience in funding youth economic empowerment and managing youth programs and research for development in sub-Saharan Africa.