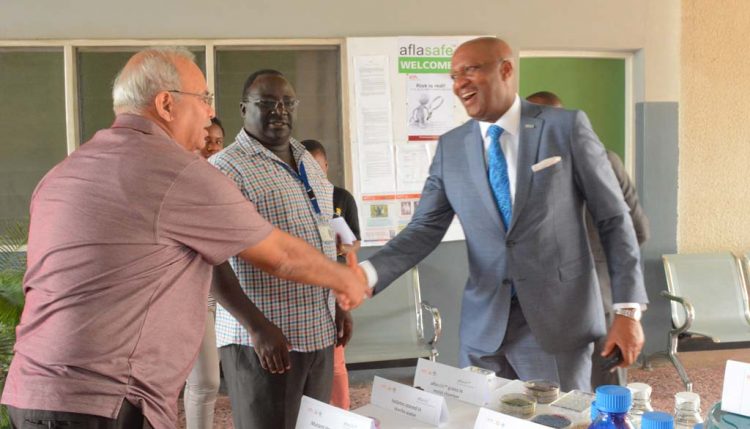 Leading Nigerian finance company explores areas of collaboration with IITA
Representatives from GTI Capital Limited visited IITA Ibadan recently, to explore business ideas that can emanate from IITA's research and knowledge and identify potential areas for collaboration.
A delegation comprising Chief Executive Officer (CEO) of GTI, Abubakar Lawal, and his Chief Operating Officer, Kehinde Hassan, was received by IITA Deputy Director General, Partnerships for Delivery Kenton Dashiell; IITA Director, Country Alignment and Systems Integration Kwesi Atta-Krah; and CEO of IITA Business Incubation Platform (BIP) Frederick Schreurs. DDG Dashiell highlighted IITA's achievements and major breakthroughs over the past 50 years, while emphasizing the need for collaboration. "We welcome you to IITA where our core belief is that for agriculture to improve, it must happen through business. The government can create the environment but the real driving force is agribusiness; be it in production, processing, marketing, or transporting," he said. In addition, Schreurs pinpointed the role and importance of BIP in Africa as he emphasized areas for intervention and support to help advance research in IITA.
Concurring on the need to move the transformation agenda forward, CEO Lawal stated: "I am curious to see how well GTI can impact Nigeria from the research platform of IITA and to give your thinking a measure of initiative that can help scale up your innovative research products for the end users."
While going around IITA, which included the aflasafe™ production plant, and NoduMax, Yam aeroponics, Plantain multiplication, and semi-autotrophic hydroponics (SAH) facilities, Lawal said, "…This is unique. We found the tour very revealing, and we have seen a lot of opportunities here; clearly, without a doubt, we have identified areas of collaboration that we can use and build on to make commercial sense out of it."
Lawal added: "Today, which is my first visit, I have learnt countless things; we came knowing little about IITA but now we are enriched. The educational tour is an eye opener; it has further given credence to our own thought process… By the time we package some of our experiences, it is going to be incredible, and I am certain we are going to build on these and make good sense of these experiences."
GTI is a leading Nigerian investment banking group with proven expertise in financial advisory services, securities dealing (fixed income and equities), asset management, and private equity.