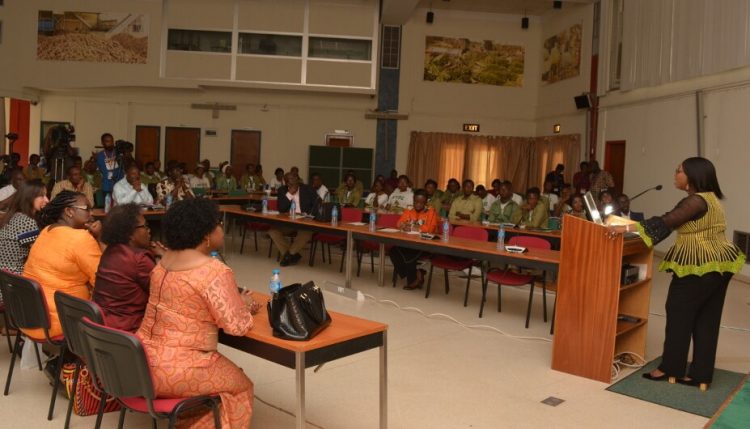 Educator encourages youth to attain success in business
The co-founder of Lifeforte International Schools (LIS), Sarah Olubi-Johnson, gave a seminar presentation at IITA on 1 December to mentor and motivate the youth towards establishing successful enterprises in Nigeria.
The seminar, themed "Building a successful business in Nigeria's challenging environment," incorporated her book titled "Dare to dream and succeed in a harsh economic climate" stimulated among the IITA Youth Agripreneurs (IYA) and IITA Corps members an interest and passion for agriculture and encouraged them to apply some of the principles that have guided her in life. The meeting, which aimed at igniting interest in business opportunities among the youth, was attended by IITA staff, IYA, IITA Corps members, representatives from the IITA Women's group, and a team from LIS.
In her lecture, Olubi-Johnson emphasized that reformatting the mind is an important element in attaining greater heights in life. "We must start with a desire and decision to change the old standard, but to do that, we need a new standard which is having the right business ethics devoid of deception," she added.
Speaking at the opening ceremony, Evelyn Ohanwusi, Interim Head of the Youth in Agribusiness Office, acknowledged the resource person for nurturing and inculcating first-hand knowledge that will enable the youth to develop and grow in their respective enterprises. "This is a great exposure to a real-life situation, and I encourage all the participants, especially the IYA, to share and learn from her wealth of experience, and help change mindsets geared towards creating impact through capacity development in the lives of other youth in Nigeria."
At the exhibition and tour of the Akinwumi Adesina Agripreneur (AAA) building and IYA enterprises, which include fish ponds and vegetable fields, Olubi-Johnson said: "Truly I am impressed with IITA's innovation; we are indeed convinced that IITA is a first-class institution working tirelessly to improve livelihoods in Africa. Personally, I am proud of the indomitable IYA for their good work, and together we will move Africa forward."
The meeting ended with a gift presentation by IYA to Olubi-Johnson to express their immeasurable gratitude for her coaching in ensuring they succeed in life.