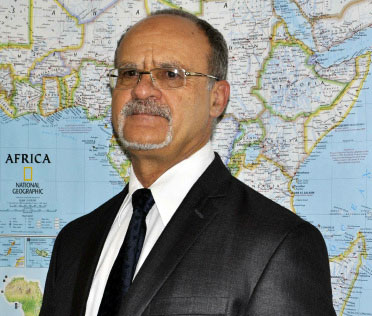 The future is looking bright for P4D, IITA, and agriculture in Africa – Kenton Dashiell, DDG, P4D
A new dawn is knocking with so much optimism with the coming of the new year. We have had so many reasons to celebrate 50 years of outstanding research and now the new Partnerships for Delivery (P4D) Directorate in partnership with Governments, the private sector, NGOs, and IITA's R4D is ready to play a significant role in Transforming African Agriculture.
During 2017, the five units in P4D—the Business Incubation Platform (BIP), Delivery and Development Office (D&D), Capacity Development Office (CDO), Youth in Agribusiness Office, and the Mechanization Office (MO)— were very active in establishing strong foundations in preparation for strong growth during 2018.
The program Technologies for African Agricultural Transformation (TAAT) was approved by the African Development Bank's Board of Directors in November 2017 and expected to start in early 2018. This project will be led by IITA and includes many CGIAR partners such as AfricaRice, ICRISAT, ILRI, ICARDA, CIMMYT, other Africa-based organizations such as the African Agricultural Technology Foundation (AATF) and the Forum for Agricultural Research in Africa (FARA), national agricultural research systems (NARS), and private companies all over Africa. The excellent performance of SARD-SC from 2012 to 2017 paved way for AfDB to request IITA to lead TAAT. We have seen the startup of ENABLE Youth in Sudan in 2017 and expect other ENABLE youth programs to start in several countries during 2018.
The future looks very bright for P4D, IITA, and agriculture in Africa! I wish you all a very enjoyable Christmas and a happy new year in advance.