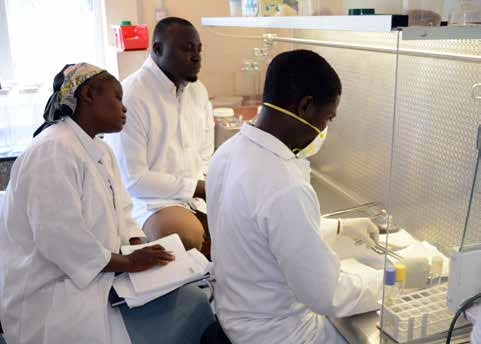 IITA board approves new work-life balance policy
The IITA Board of Trustees (BoT) has approved the new work-life balance policy during the board's annual meeting in November 2017. This is according to the board's 2017 full report delivered by the chairman of the board, Dr Bruce Coulman when he visited the IITA Central African Hub Coordination office in Nairobi on 27 November.
The policy will allow IITA management to come up with a flexible office time strategy to improve working conditions for staff. Quoting from the report, Coulman said IITA's Human Resources had been the most outstanding within CGIAR and among not-for-profit organizations, pointing out that proper implementation of the policy will only serve to improve the support to employees.
Coulman delivered the report when he met with the staff from the IITA Central African Coordination Office. He said that the board was pleased with the research work going on in different parts of the continent and he commended IITA's Director General Nteranya Sanginga for his ingenuity that has attracted alternative partnerships, bolstering the institution's resilience and transforming ideas into products and improving the quality of output in general.
"IITA is effectively managed by Dr Sanginga who has been initiating and implementing new programs that have kept the institution on the right track and contributing to the transformation of agriculture in Africa," Coulman announced.
He further stated that in spite of the apparent funding reduction in W1 and W2, additional funding expected in early 2018 will serve to cushion affected areas of operation.