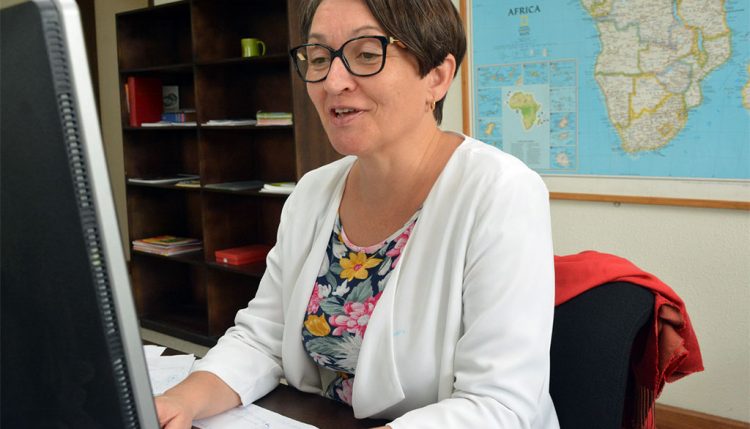 The R4D landscape in 2018 is looking very good – May-Guri Saethre, DDG, R4D
The year 2017 has been quite eventful and filled with achievements! High on the list is the celebration of the IITA Golden Jubilee with the series of activities that culminated in an awesome R4D week and the 50th Anniversary Science Conference on food security challenges for the next 50 years. This greatly enhanced the visibility of IITA within the African region
During the year, we continued to make progress in climate change mitigation and adaptation with the kick-off of the Biorisk Management Facility (BIMAF) in IITA-Cotonou.
Our scientists have worked in collaboration with a group in Japan to develop genomic resources in yam which includes the publication of the first genome sequence of the guinea yam species in a high impact journal and made significant progress towards publication of the genome sequence of other important cultivated species. In addition, new diagnostic techniques and apps were developed by the Germplasm Health Unit.
The Next Generation Cassava Project made great progress in the implementation of genomic selection to enhance speed and precision of breeding in work led by Ismail Rabbi and the cryopreservation of clonal crops is underway in GRC led by Badara Gueye.
IITA economists with support from other IITA scientists led a multi-CGIAR center team of scientists working on the flagship project proposal on Priority Setting and Impact Acceleration.
IITA-Mozambique facilities in Nampula with 11 offices, three laboratories, a seed storage facility, and a vehicle repair workshop were inaugurated in May 2017 and helped to increase IITA's visibility at all levels from the Government and donors to the general public. It has also increased staff morale.
All these records of successes and more could not have been achieved without your commitment and devotion to IITA. It shows our faith in IITA's pursuit of transforming African agriculture. In spite of the year's financial constraints, we have all done well! And with the ever-increasing demand for safe and nutritious food to feed a growing global population, the R4D landscape in 2018 is looking very good!
I am very grateful to you all for your support throughout this year! Thank you and I wish you an amazing holiday.