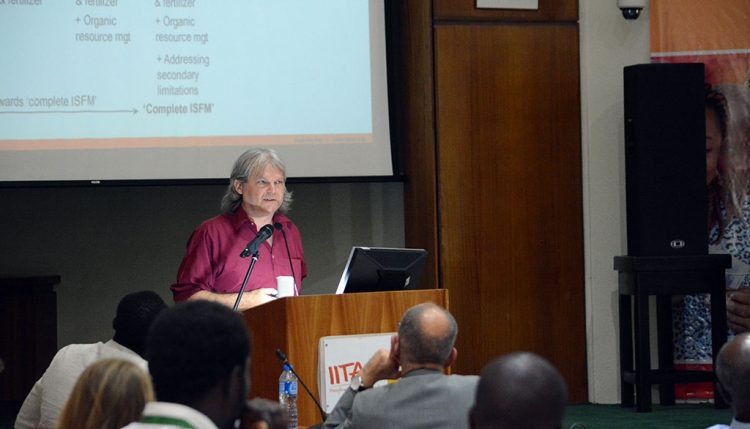 1
50 years of soil research at IITA, failures and successes – Bernard Vanlauwe
After years of reduced attention, IITA research on natural resource management (NRM) has made a strong come-back and is now a fundamental component of the research portfolio. It is playing a major role in the achievement of one of the key performance indicators of the Institute—rehabilitating 7.5 million ha of land for sustainable use.
Speaking during the session on NRM, Bernard Vanlauwe, Director for Central Africa and NRM head, said soil science is now stronger than ever. Learning from past failures, the team is now focusing on Integrated Soil Fertility Management (ISFM).
"ISFM uses fertilizers as an entry point but integrates all other inputs. We now need to scale out technologies," he said as he discussed the several initiatives focusing on taking agronomy to scale. These include Taking maize agronomy to scale in Africa (TAMASA), Cassava Agronomy to Scale in Africa (ACAI), and the Consortium for Improving Agriculture-based Livelihoods in Central Africa (CIALCA).
Another initiative was the N2Africa project, a research-in-development project that had distributed over 100,000 Nodumax sachets. Nodumax is a biofertilizer for growing soybean.
NRM had also been embedded in new initiatives at the institute such as the IITA Youth Agripreneurs (IYA) and new products had been forwarded to the Business Incubation Platform (BIP) for commercialization. He said the team was all about developing innovations to do things better, faster, and more cost effectively.