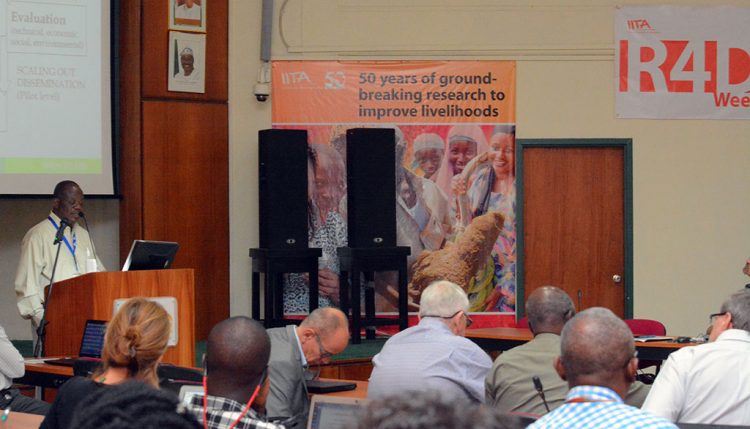 Advances in social sciences and biotechnology lauded
"It is truly impressive how far we have gone with the work we have done, particularly the tools, methodologies, and technologies, especially in the past 3 years in social science, crop breeding, and biotechnology," said IITA Director General Nteranya Sanginga in reaction to the various presentations done by scientists in these areas during R4D Week held at IITA-HQ in Ibadan.
"This makes me extremely proud to be at the helm of IITA at this point in time, and to be associated with such distinguished researchers and scientists as we work towards achieving our vision and mission for 2020," he added.
The DG's statements came at the Q&A and closing of the Social Science and Agribusiness, and Crop Breeding and Biotechnology sessions on Day 2 of the week-long annual gathering of IITA scientists and research support colleagues.
During the Social Science and Agribusiness session, participants listened to presentations on the status, achievements, and future of social science and agribusiness by Victor Manyong, Director for Eastern Africa and team lead; assessing and accelerating the 'scaling readiness' of agri-food innovations by Marc Schut, Rwanda Country Representative; and the impact of improved cassava varieties in Nigeria by Tahirou Abdoulaye, Impact Socioeconomist.
Some of the key issues raised by participants from this session included how to improve on the access to formal and informal credit by farmers, positioning social science as an engine of transformation or end-game analysis of adoption, making scaling-readiness an integral part of IITA project concepts, and making use of network analysis to help IITA better choose the partners it will work with in future endeavors.
In going into full gear towards transformation through scaling, Schut said that scaling is not just about technologies but about whole 'packages' which should include ideas, innovations, policies, infrastructure, and other elements. "We also need to shift from fundamental to more applied sciences," he added. "Also, we cannot say that we have achieved scaling if only our partners have used the technologies that we develop—it's about network penetration. And this (scaling) does not just happen—we need to be ready to make it happen," he concluded.
On the impact of improved cassava varieties in Nigeria, Abdoulaye indicated that "the impact pathway from development of improved varieties to food security and poverty reduction is not simple nor linear—there are several factors to consider such as income, wages, institutions, policies, and others."
"We should not be surprised that productivity has remained essentially the same for the past 50 years as some important factors have remained the same; for example, the contact of farmers with extension," he added. "However, the entry of cheap Chinese herbicides has led to an increase in use by farmers, but the substandard quality has also exposed farmers to greater health risks. This is also something that we need to consider as we continue our pursuit of enhanced productivity among our Nigerian cassava farmers."
During the session on Crop Breeding and Biotechnology, Robert Asiedu, Director for Western Africa and thematic research lead, gave an overview of the status, achievements, and future of Biotechnology and Genetic Improvement at IITA. He reported on the current activities and developments in this area such as staffing, products development and delivery, biotic stress studies, breeding efficiency, enhancing germplasm, cryobanking, and transgenic research, among others.
Livia Stavolone followed with her presentation entitled "Together we are stronger: A multidisciplinary approach to improve cassava yield." Here, she highlighted her team's work on investigating the genetics of potential storage roots and fibrous roots relating to cassava root development, size, and characteristics.
"Hopefully," she said, "our research will help cassava farmers attain bigger, better harvests—that's the end-game anyway."
Allan Brown, in his presentation on Banana SNP Array Design, said that "there have been great advances in genomic analysis in the past years—you can now analyze thousands of markers within the same time to analyze one marker (RFLP) since about 2-3 years ago."
DDG-R4D Dr May-Guri Saethre added that given the urgency of the spread of banana diseases in Africa, including the current Tropical Race 4 incidence in Mozambique, we need to make full use of this SNP technology to address the situation. She also raised the question of the possibility of applying SNP in other IITA mandate crops.