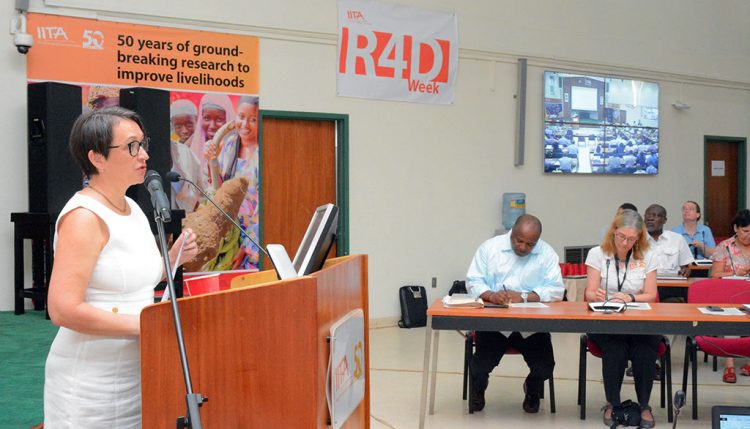 Biorisk facility prioritizes development of a biocontrol agent for fall armyworm
The newly formed Biorisk Management Facility (BIMAF) has prioritized the development of a biological control solution for the fall armyworm (FAW), which was introduced to Africa from America and is marching across the continent leaving a wave of destruction in its path.
"In the meantime, we are also looking at short-term management measures to control the pest.
"We have also been involved in capacity building. Currently we have three MSc students and soon we will have a PhD student to conduct a feasibility study for biological control of FAW," said Ghislain Tepa-Yotto while giving a presentation on the developments in BIMAF.
"This is important work for IITA. Developing a biocontrol product on fall armyworm presents a good opportunity to repeat our past success in controlling cassava mealybug and cassava green mite all over Africa using biocontrol," commented May-Guri Saethre, IITA-DDG for Research for Development.
BIMAF in Cotonou, Benin, was initiated by IITA and its partners under the auspices of the West and Central African Council for Agricultural Research and Development (CORAF/WECARD).
Another area the center is considering is carbon emissions in connection with climate-smart agriculture.