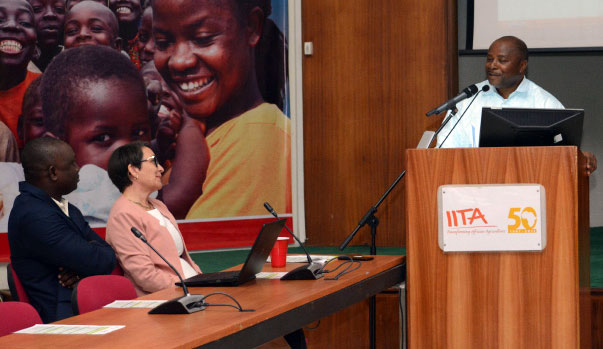 IITA strategizes to face shaky funding environment and transform African agriculture
The uncertain world of donor funding is a major threat to CGIAR centers but IITA Director General Nteranya Sanginga is optimistic that the Institute will thrive notwithstanding. Speaking on the first day of IITA's 2017 R4D Week, the annual planning week, the DG said IITA still had a role to play in Africa's agriculture and therefore must find creative ways to deal with the financial challenges.
"Currently Africa's leaders are concerned with the high import bill of US$35 billion/year on foods we can produce in the continent. This figure, if we do nothing, will triple to $110 billion/year. These are jobs we are creating elsewhere, yet unemployment for our youth is still very high.
"Our score card so far is very encouraging. Our social science team has shown we have contributed to moving 6 million people out of poverty. We are also proud of the high-quality research at IITA and the technologies  we are rolling out," he said.
Preparing to transform Africa's agriculture
Sanginga said that IITA is now directing agriculture research to the different stages of agricultural development and political will in the various countries.
"We are conducting analyses of countries' readiness for transformation based on availability of resources and political good will and leadership. In some countries, there are plenty of resources but no good will. In others, there's a lot of political good will but a lack of resources. The approach will be very different in these two cases. One measure does not fit all," he said.
In conclusion, Sanginga said IITA will focus on delivering good science and results, and on aggressive resource mobilization. "When times are difficult we find new ways of doing things. Business unusual is going to be the way forward for IITA."