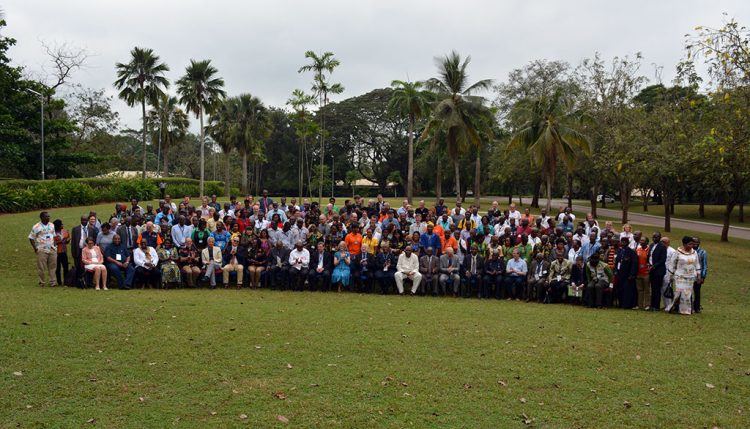 IITA50 celebration ends on a high note
The year 2017 marks IITA's 50th anniversary. The anniversary celebration reflected two milestones—the first 50 years, covering the period from inception up till now; and the next 50 years. The first core event, held on 24 July, celebrated the achievements of the institute and its people—researchers, staff, alumni, partners and donors—that have been part of the history and success of the institute.
The second celebration event held on 24 November was a conference organized to address the challenges, opportunities, and strategies for ensuring food and nutrition security for the next 50 years. The conference had a foresight and futuristic focus, given the key challenges of population growth and climate change and their impact on agriculture and food systems in the world.
The conference, tagged "Towards Food and Nutrition Security for the next half century: challenges, opportunities, and strategies" attracted about 300 experts from the research community, policymakers, and the donor community. The shared ideas looked at emerging challenges of food security, and the future with an emphasis on what role IITA could play as a solutions provider and as a driver of agricultural transformation in Africa.
The African Union's Commissioner for Rural Economy and Agriculture, H.E. Mrs Josefa Correa Sacko; former President of Nigeria, Chief Olusegun Obasanjo, IITA Director General Nteranya Sanginga; Chair of the IITA Board, Bruce Coulman; and Chair of the IITA 50th Anniversary Committee, Kwesi Atta-Krah, addressed participants during the opening session, setting the tone for the conference.
Nine invited presentations were made in three technical sessions, on topics ranging from farming and food systems, sustainable intensification, agroecology, climate change, youth in agriculture, impact of NERICA rice, molecular science, developing genebanks, and IITA's research and orientation into the future.
In the next 50 years IITA will continue undertaking research and delivery in its key mandate domains, while intensifying efforts in four particular areas:
The transformation focus of its research, which aims through massive scaling out efforts, to impact on changing livelihoods of farmers and in the economies of African countries.
Youth in agriculture and agribusiness, which provides solutions to the issue of youth unemployment and unearthing opportunities for youth in agriculture and agribusiness. The African Development Bank has initiated a program called ENABLE-Youth, based on the IITA Youth Agripreneurship Program model, aimed at supporting African countries to initiate youth agripreneurship incubation programs.
Strengthening research to address direct and indirect impacts of climate change. Emphasis will be placed on the indirect impacts such as the effect of climate change on new pests and diseases. Based on previous successes of managing large biocontrol and IPM projects, IITA and partners have spearheaded the initiative of establishing a Biorisk Management Facility (BIMAF), housed in its research campus in Cotonou, Republic of Benin, under the umbrella of CORAF/WECARD.
Finally, IITA will strengthen efforts in aligning its research and delivery operations with the strategic goals and targets of priority countries. This will also include alignment to continental policy and political processes such as the African Union Commission, CAADP, and NEPAD-PCA.  Strategic partnerships with country, regional, and international agencies involved in agricultural research and delivery towards food and nutrition security, job creation, import substitution, and economic diversification will be central in this work.
To read more IITA stories and about the IITA50 celebration, visit: blog.gfar.net/2017/12/12/conversations-in-transformation-why-its-good-to-talk-to-people-on-your-way-to-work/.