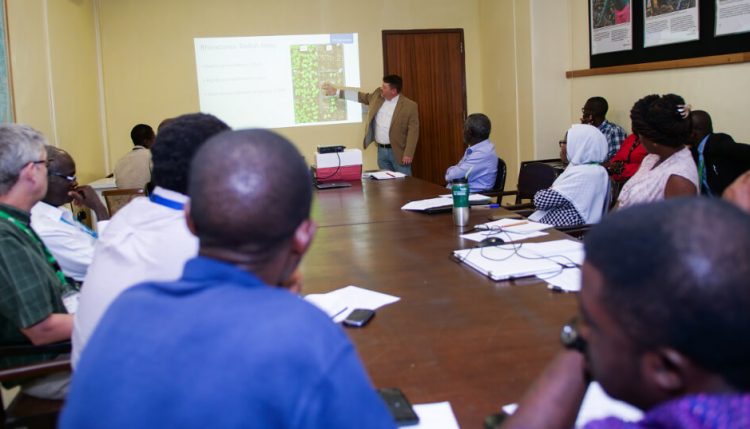 AgBiome officials seek collaboration, sign MoU with IITA
Drs Vadim Beilinson and Lee Simmons, representatives from AgBiome Inc. of North Carolina, USA, paid a courtesy visit to IITA on 18–19 January to seek opportunities for collaboration. The delegation was received by Director R4D, IITA West Africa, Robert Asiedu, YIIFSWA project lead Norbert Maroya, and AfricaYam project lead David De Koeyer. Asiedu gave an overview of IITA's activities and achievements over the past 50 years and highlighted the importance of partnership with organizations that seek to improve agriculture "in all its ramifications."
The visit was arranged to establish collaboration with IITA principally in sample collection to discover new and potentially beneficial microorganisms that would control nematodes in yam for medium and smallholder farmers, and also to benefit from IITA's expertise in developing AgBiome to be the world's leading agricultural biotech company.
Simmons stated: "To have on-the-ground expertise and knowledge required for production systems, locating the best places for sampling and, more importantly, the dissemination of that information to get back to producers and end-users, cannot be achieved without collaborating with an established organization like IITA." In addition, Beilinson pointed out that since yam is a major food crop, "its massive losses are known and the control measures are limited, so we see this collaboration as tremendous in transforming yam production, and by extension, other food crops with similar difficulties, by making products that will help farmers combat many of the most important unsolved problems in agriculture, including insects, nematodes, and diseases."
After a tour of IITA, which included the yam breeding fields and storage facilities, the yam aeroponics system and vine nursery, and the nematology laboratory, Simmons commented: "This is extraordinarily impressive. There is no doubt we have come to the right place for the partnership."
AgBiome is a private biotechnology company and uses new knowledge of the plant-associated microbiome to create innovative products for agriculture.