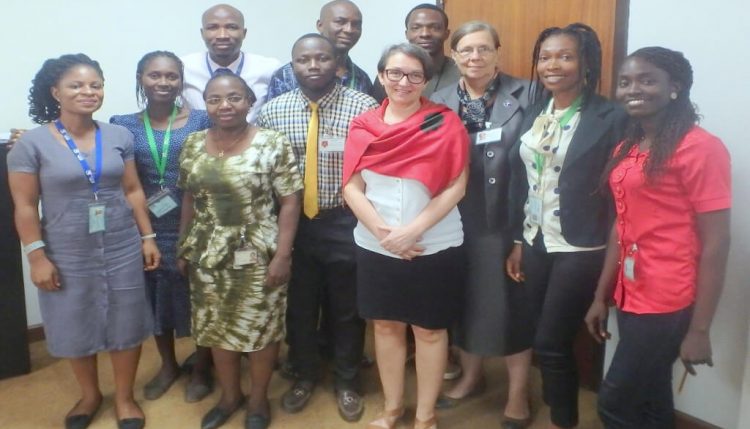 DDG R4D inaugurates new IARSAF executives
IITA DDG, Research for Development (R4D), May-Guri Saethre, on 30 November 2017 inaugurated the new executives of the International Association of Research Scholars and Fellows (IARSAF). The event was held at Board Room II (Building 500) following the successful elections in October in which Taofeek T. Adegboyega was elected as president.
The oath of office was administered by the immediate past President Felix Adegbehingbe after presenting his stewardship to the audience.
In his acceptance speech, Adegboyega acknowledged members of staff present and applauded the Institute's continued support of IARSAF over the years. While presenting his team's agenda for 2018, he gave assurances that the new executives will do their best in delivering on target outputs. Highlights of proposed programs include the use of statistical software, techniques and methodologies for nematode disease diagnosis and identification, as well as the annual symposium, research visit to IITA Benin Station, the launch of the IARSAF website, and a special conference on Youth in Agriresearch to commemorate 2018 International Youth Day. The overall goal of all these programs was to increase the competencies and enhance capacity of fellows.
In her response, Saethre appreciated the new team for starting on a good note by thinking and meticulously planning ahead. She noted that the programs were very ambitious but promised the support of the R4D wherever applicable. In her own congratulatory message, R4D consultant Prof. Janice E. Olawoye asked the new executives to ensure that they work together to move the association forward, also promising to work with the new team in any way possible.
The new IARSAF executives subsequently embarked on courtesy visits to heads of units in IITA HQ, Ibadan where their 2018 program of events were presented and discussed.
The new IARSAF executives are Taofeek T. Adegboyega (President), Ifunanya N. Ifezue (Vice President), Afolabi S. Sanni (General Secretary), Moses S. Anzenge (Public Relations Officer), Mary O. Edhemuino (Treasurer), and Chidinma A. Nwachukwu (Welfare Secretary).