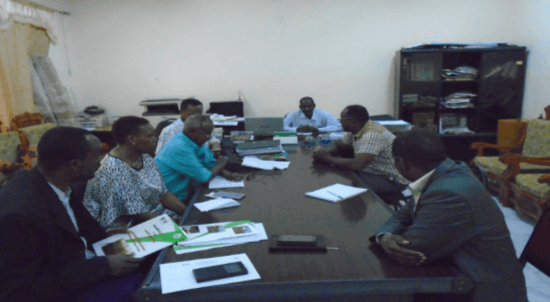 ENABLE Youth Program off to a great start in Sudan…
The ENABLE Youth program in Sudan started positively with the team receiving a very warm welcome and support from various heads of states in the country and agriculture research centers that consider it "a timely and much-needed initiative in the country."
In River Nile State, the Minister for Agriculture, Livestock, Irrigation & Forests, Eng. Omer Ahmed Elshikh, said that "the program was timely and well aligned with the state government's priorities of creating youth employment."
He said that agriculture was one of the key sources of livelihood in the state and youth involvement would further boost agriculture activities.
He assured the program team that paid him a courtesy visit led by its national coordinator, Dr Salih Khierallah, that the state had ample resources, especially land and human capacity, that could be leveraged by the program to deliver desired objectives.
The team also met officials from El Gedaref and Kassala states who also welcomed the initiative as they noted unemployment of graduates was on the rise, posing a major economic and social problem, and the numerous opportunities in agriculture to create jobs.
The Minister of Agriculture to the ElGedref State, Dr Abdullah Suleiman, noted that there was a huge market gap in fish and that the state was importing up to 100 tons of fish from neighboring Ethiopia. This he said was a huge opportunity for youth to engage in aquaculture to bridge the gap.
Both states expressed their willingness and commitment to avail resources to complement the program. Notably, they indicated willingness to allocate already existing facilities and infrastructure within respective ministries as well as land for use by the Agripreneurs in their agribusiness ventures.
…forms partnership with research centers to commercialize agriculture technologies
The Agriculture Research Centers (ARCs) in Gedaref and River Nile states have agreed to partner with ENABLE Youth to commercialize their research outputs in a bid to reach more users.
The partnership, using the incubation model, will see the youth in both states set up a business in seed propagation to support mass production of improved varieties of wheat, sorghum, and sesame, among others, to ensure adequate supply in the market.
In separate meetings, the Director Generals of both centers noted that they had adequate land at their disposal for research as well as human and infrastructure capacities for conducting research in diverse agriculture disciplines. They noted the many varieties developed that were awaiting multiplication to meet market demand.
Private sector pledges support
ENABLE Youth also embarked on a mission to mobilize private sector actors along agro-value chains to create public-private partnerships (PPPs) that will drive the program's sustainability agenda.
The team initiated a meeting with private sector stakeholders including farm input suppliers, machinery and equipment vendors, large-scale farmers and traders, and financial institutions that expressed their commitment to work with the program to ensure that the value chains were functional and profitable for Agripreneurs. The relationships established with the private sector will ensure a vibrant business environment that will assure youth of running sustainable enterprises.
The 5-year ENABLE Youth program, funded by the African Development Bank, will support the creation of 2000 agribusinesses in five states of Sudan using business incubation models. It is expected that by the end of the program, 12,000 jobs would have been created in the agribusiness sector where graduates running businesses will each employ five other youth.
The program is being implemented by the Government of Sudan under the Ministry of Agriculture and Forests with technical support being provided by IITA.