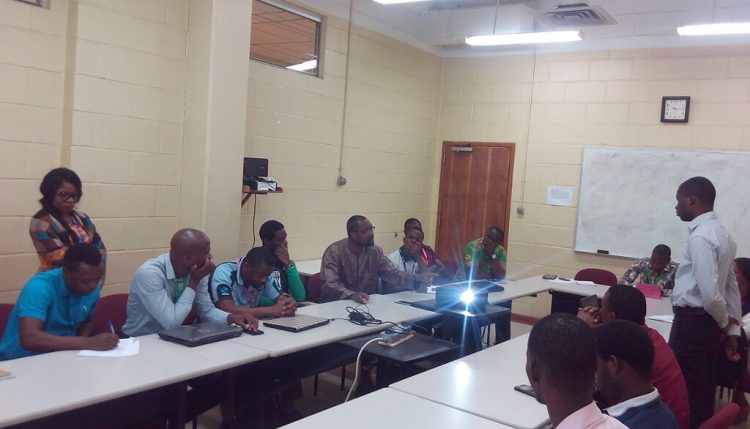 IARSAF holds first journal club meeting in 2018
On 25 January, the International Association of Research Scholars and Fellows (IARSAF) held its first monthly Journal Club meeting at IITA, Ibadan, to discuss and review research work that has been carried out by Research Scholars and scientists in the institute using the bibliography from the Knowledge Center.
Usually, a volunteer presenter for each month chooses a journal of his choice and share among Fellows; and on the last Friday of every month, present his or her review while other Fellows contribute their ideas based on their understanding of the journal. These outputs are either incorporated into ongoing research or used later.
In his opening remarks, Tope Taofeek Adegboyega, 2018 IARSAF President, applauded all IITA researchers and Fellows present. While welcoming the participants, he particularly commended Munirou Sow, plant geneticist for abiotic stresses, Africa Rice, and Ben Faloye, Field Bank Manager, Genetic Resources Center (GRC), saying: "Your presence is an encouragement to us, and I hope to have more of your colleagues around in future meetings, to help broaden the scope of our horizon by sharing their wealth of experience with us."
Afolabi Sanni, a PhD candidate from the University of Ibadan and Fellow at GRC, presented a review of the article "Application of genomics-assisted breeding for generation of climate resilient crops: progress and prospects," by Michael Abberton, Head, GRC and 36 others.
While making his contribution after the presentation, Sow acknowledged the importance of the journal club meeting and suggested that future presenters should always source for publications with more practical issues, which could be applied as science has gone beyond mere journal publication. He shared his experiences during his PhD and postdoctoral fellowship at AfricaRice Cotonou, emphasizing the importance of hard work and diligence.
In concluding the seminar, Muideen Olayiwola, former president of IARSAF, advised members to always read the circulated journal before coming to meetings to have more robust discussions. Concurring, Moses Selumun Anzenge, the moderator of the meeting, thanked the senior researchers present and noted all their suggestions. The next Journal club meeting is slated for 23 February.