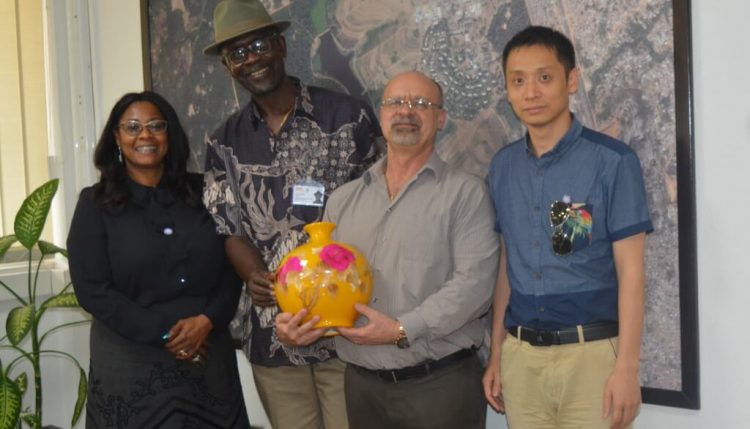 Oyo State Chinese investors and stakeholders explore ties with IITA
Chinese investors from the Polaris Pacesetter free trade Zone (Nigeria), accompanied by stakeholders from the Oyo State government, visited IITA on 18 January to establish a partnership and prepare the ground to sign a memorandum of understanding (MoU).
The visitors were received and welcomed by Kenton Dashiell, Deputy Director General, Partnerships for Delivery, and Kwesi Atta-Krah, Director, Systems and Site Integration.
Stating their purpose of visit, Charles Lu, one of the Chinese investors said: "We are at IITA because, having heard about the institute as a high-level, professional organization with the latest technologies, we want to explore the technologies, prepare the ground for a future partnership, and hopefully sign an MoU with IITA.
According to Tolu Sadipe, Special Adviser to the Governor of Oyo State on Projects and the Bureau of Investment Promotions and chairperson of Oyo State Agricultural Initiatives, the Oyo State government in their effort to industrialize the state, partnered with the Chinese team in setting up a free trade zone called the Polaris free trade zone, located on the Lagos–Ibadan Expressway. She said: "Agriculture is going to be a key part; we are going to produce some foodstuffs, but the raw materials would come from the farms. So instead of going to source all the raw materials, we want to produce some of the raw materials here in IITA that would go to the factories. Whatever is produced is going to be exported out of Nigeria. Hence, we are here to also develop a technical partnership with IITA. As part of the process, we brought some of the investors who are investing in the free trade zone and some agricultural companies that are interested in the project as well."
The visitors were taken on a tour of IITA's research facilities and technologies.
After the tour, the Chinese investors and the Oyo State government delegates met with key IITA staff to discuss the way forward. It was decided that a committee comprising representatives from each organization be formed to enable them to continue the communication. Also, it was agreed that IITA, with contributions from the partners, prepare an MoU that would be signed on their next visit.