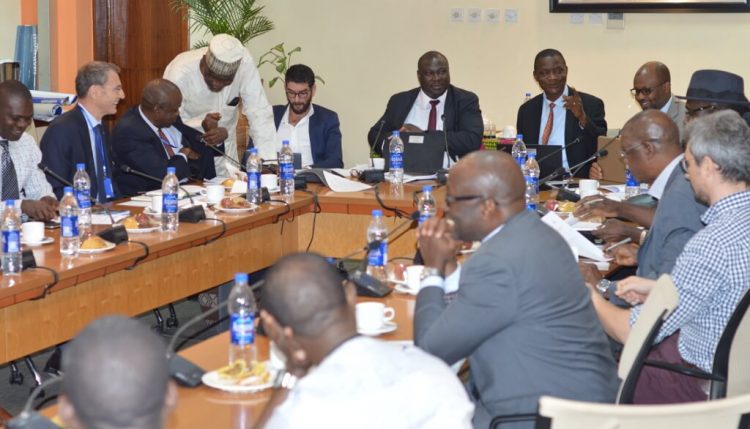 Agricultural Donor Working Group welcomes IITA's Country Integration and Alignment initiative
The Agricultural Donor Working Group (ADWG) in Abuja has commended IITA for developing a framework for action to enhance integration and collaboration across various institutions and programs towards achieving national strategic goals, and in line with the goals of CAADP and SDG2.
"IITA has done much; I am happy that IITA is beginning to take the lead in influencing what is happening in the agricultural sector…," remarked Dr Adetunji Oredipe from the World Bank, who co-chairs the Working Group after listening to the presentation on "Country Consultation on Integration and Alignment towards Agricultural Transformation in Nigeria" made by IITA's Director of Country Alignment and Systems Integration, Kwesi Atta-Krah.
The model for implementing the alignment to country goals for Nigeria, will involve an analysis of the Federal Government Policy Instruments on Agriculture; Analyzing the agricultural production and productivity situation for the different states, which is essential for understanding the health of agriculture in the various states based on existing secondary data; Assessing and mapping of states on the grid of "Readiness for Transformation", which will require assessment of an enabling environment in policy and political terms, as well as the technological potential for transformation and outscaling; and finally, Research and delivery targeting and mapping—involving analysis of R&D interventions in relation to country strategic goals/targets. The framework would provide a means for aggregating impact contributions across various programs and projects to specific government goals. This process is expected to help make research more targeted towards development and support harmonization of research efforts.
Oredipe, who also represented ADWG at the #IITA50 celebration in Ibadan, 24 November 2017, encouraged all donors to key into the implementation of the alignment plans.
ADWG includes the World Bank, GIZ, International Fund for Agricultural Development (IFAD), United Nations Industrial Development Organization (UNIDO), African Development Bank (AfDB), Japan International Cooperation Agency (JICA), International Food Policy Research Institute (IFPRI), Bill & Melinda Gates Foundation, US Agency for International Development (USAID), Food and Agriculture Organization (FAO), Alliance for a Green Revolution in Africa (AGRA), and other stakeholders who support agricultural programs.
Atta-Krah was accompanied to the high-level meeting by IITA's Head of Station in Abuja, Gbassey Tarawali.