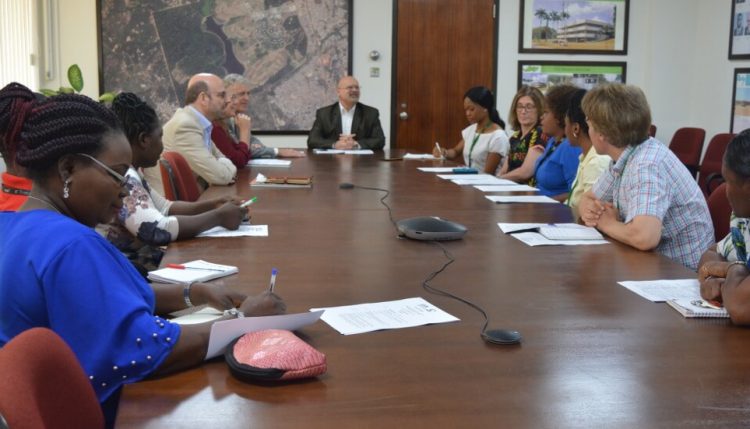 Dutch envoy visits IITA
On 19 January, His Excellency Robert Petri, the ambassador of The Netherlands to Nigeria accompanied by his spouse Marijke Petri and Michel Deelen, Deputy Head of the mission, visited IITA to share knowledge, exchange ideas, discuss a possible collaboration, and strengthen existing partnerships.
The delegation was received by Kenton Dashiell, Deputy Director General, Partnerships for Delivery (DDG-P4D) and Hilde Koper-Limbourg, Deputy Director General, Corporate Services (DDG-CS).
In his welcome remarks, IITA's DDG-P4D expressed his appreciation to the Dutch government saying, "We want to say thank you very much to the government of The Netherlands and the people because for many years you have been strongly supporting us both financially and with human resources."
Morenike Abu, Contract Compliance Officer, Project Development and Administration Unit (PDAU), gave a report on the projects IITA has with The Netherlands (Wageningen University and other organizations) and total funding from The Netherlands to IITA.
While speaking on the purpose of visit, the Ambassador said "Part of the reason why we wanted to come here is to see what IITA is doing in the field of agriculture. Nigeria is a huge country as we all know, so many things can be done and many things have to be done. We have been reviewing our portfolio lately, looking out for areas where we could make the biggest impact. We think we should do more on agriculture.
We all know that agriculture is a priority for the Nigerian government and I think The Netherlands has something to offer as we are the second largest food exporter in the world; we could work together more closely together with Nigeria. We want to emphasize that Nigeria is a very important country, the economic engine of Africa. We have to make things work here, for if things start working in Nigeria, things will surely improve in other African countries."
The visitors also had a roundtable discussion with Iheanacho Okike, Agricultural Economist/Livestock expert on the use of cassava peel as livestock feed and end-use screening. They were then taken on a tour of IITA's research facilities such as the Germplasm Health Unit (GHU), Bioscience lab, Business Incubation Platform (BIP), Aflasafe factory, and to visit with the IITA Youth Agripreneurs.
Ambassador Petri is the newly appointed Dutch Ambassador to Nigeria, who started his ambassadorial duties in September 2017.