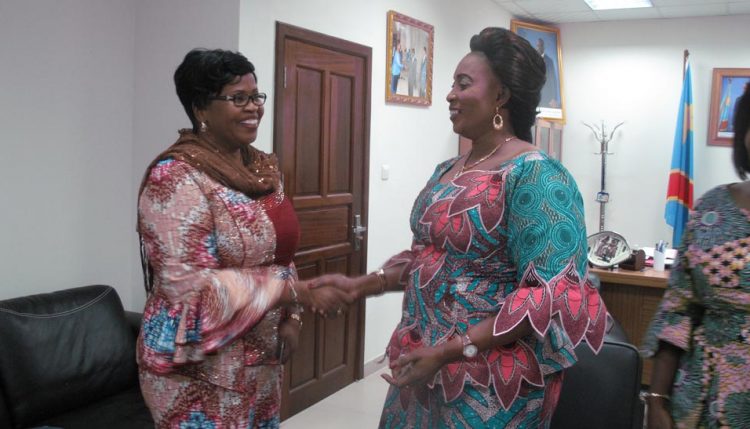 IITA Women's Group meets with DR Congo Minister of Gender, Child and Family
IITA Women's Group representative Charlotte Sanginga, accompanied by Valérie Tembo, President of IITA Women's Group Kinshasa Station and member Michèle Kimpwene Sanginga, paid a courtesy visit to Her Excellency, Minister Chantal Safou and members of her cabinet in the ministerial office, Kinshasa on 5 February.
During the meeting, Mrs Sanginga, Head of Scholarship and Charity Committee of IITA Women's Group in Africa, outlined the activities of the IITA Women's Group in Africa in general, and in DRC in particular. She also proposed collaboration with the National Ministry of Gender, Child and Family in the DRC.
Mrs Sanginga spoke briefly about IITA and its activities in the DRC. She explained about the IITA Women's Group's primary mission, which is the support and fulfillment of women and children not only of IITA but also of its partners and communities involving IITA. She explained that DRC has benefited from nine scholarships granted to the children of IITA staff who are now attending high school and university.
Her Excellency Minister Safou, in her response, hailed this IITA initiative and encouraged IITA Women's Group members to be more involved in activities for the well-being of Congolese communities.