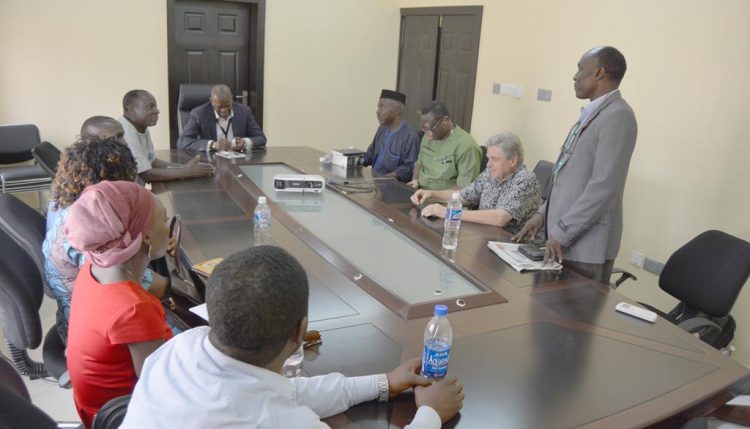 2
AfSIS delighted with ambience of Abuja Conference facility
A delegation from the Africa Soil Information Service (AfSIS) has paid a thank you visit to the Head of IITA-Abuja station Gbassey Tarawali for what it described as a "quick response to their request to use the IITA Kubwa facility after a hitch to use a planned venue in town in Abuja."
The team led by Joseph Uponi, Manager, Laboratory Analytical Service at IITA Headquarters, stressed that the team was able to achieve so much in one day because of the conducive environment.
'This is a great improvement, great facilities, and fantastic support," Dr Bruce Scott of ICRAF who is AfSIS Technical Adviser, said while also expressing gratitude.
The visit came after their one-day training on AfSIS' Standard Operating Procedures (SOPs) held at the conference hall in Abuja Station.
Receiving the group, Tarawali expressed delight for the opportunity to host AfSIS. "With the support of the IITA management, our facilities have improved; feel free to come any time," Tarawali assured the visitors while briefing them about the Station's activities which include different projects and IITA Youth Agripreneurs.
AfSIS is a project funded by the Bill & Melinda Gates Foundation that builds technology innovations and services to drive the future of African agriculture. Its goal is to rapidly expand the use of world-class information technology and data science to ensure that Africa's soil and landscape resources are described, understood, and used effectively to raise agricultural productivity and lower ecological footprints as a means of increasing the prosperity of Africa's communities and nations.
One of the five AfSIS' Mid infra-red soil spectrometers (MIRs) in Nigeria is in IITA Ibadan. Similarly, training of NiSIS and IITA staff members in R/AfSIS SOPs, MIR, and pXRF spectral methods for soil prediction commenced immediately after the launch of the Pilot NiSIS project of mapping the soils in Kebbi and Ebonyi states, which was officially launched by the Honorable Minister of Agriculture and Rural Development, Chief Audu Ogbeh.
Part of this training on AfSIS SOPs was hosted by IITA Abuja on 13 February. The training on pXRF spectral methods will be at IITA Ibadan and the one on MIR spectral methods will be in all the five designated spectral labs in Nigeria from 15 to 22 February.