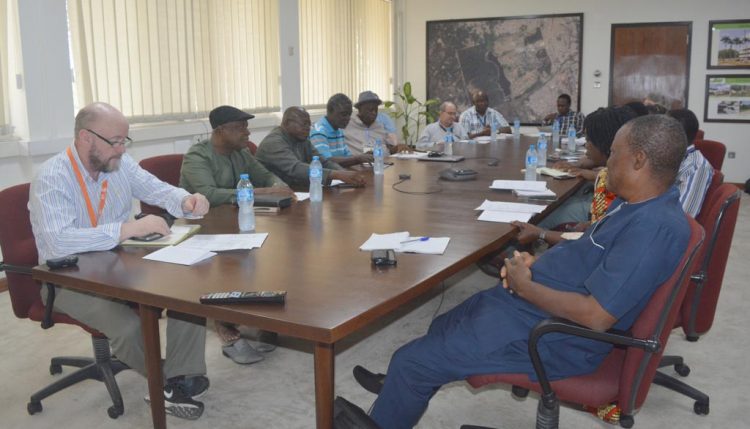 NRCRI visits IITA to explore areas of improvement
IITA partners from the National Root Crop Research Institute (NRCRI), Umudike, Abia State, visited IITA HQ on 14‒15 February, to explore and discuss possible areas of improvement, and also strengthen partnership ties.
A delegation led by Joseph Ukpabi, Acting Executive Director of NRCRI, was received by Hilde Koper-Limbourg, IITA Deputy Director General, Corporate Services; Sylvia Oyinlola, Head of Administration, Western Africa Hub; and Principal Investigators (PI) of IITA projects. In her welcome address, Oyinlola gave assurances of unending collaboration and commitment, while emphasizing the need to help secure the path to food security in Africa.
Robert Asiedu, IITA Director, Research for Development, West Africa, gave an overview of IITA's active projects and achievements, reiterating the importance and willingness of the Institute to assist NRCRI in achieving their strategic and operational goals. Okechukwu Eke-Okoro, NRCRI Director, Externally Funded Projects, commended the immeasurable effort of IITA towards ensuring that Africa feeds itself through agriculture. "I am amazed at IITA's groundbreaking research and innovations. If only all that we have seen and heard can be replicated in NRCRI, I believe we will contribute a reasonable quota in moving agricultural agenda forward," he added.
While conducting the visitors round IITA facilities, which included Virology and Germplasm Health Unit (GHU), Analytical Service Laboratory, Geospatial Information System Laboratory, Semi-Authotropic Hydroponics (SAH), and Genetic Resources Center ( GRC), Ukpabi stated "IITA is doing a good job! I am impressed with its impact and commercialization efforts; I commend the management for their determination and hard work.  From the experiences gathered, we need to find ways of boosting and increasing yam visibility in the Eastern part of Nigeria, as tuber crops are being downplayed by breeders in the zone. I count on your support," he asserted.
Concurring with Ukpabi's commendation, Anthony Ano, NRCRI Director for Root Crops, said: "Our partnership with IITA is over 3 decades, and they have never disappointed us. As we are ready to build on these linkages especially in the areas of yam and cassava, and make a good success of these experiences, I am certain IITA will not let us down."
NRCRI conducts research on genetic improvement of economically important root and tuber crops such as cassava, yam, cocoyam, sweet potato, Irish potato, ginger, rizga, Hausa potato, sugar beets, and turmeric. It also researches subjects such as crop cultivation techniques, storage, processing, and utilization of the crops, concentrating on requirements of farmers in southeast Nigeria.