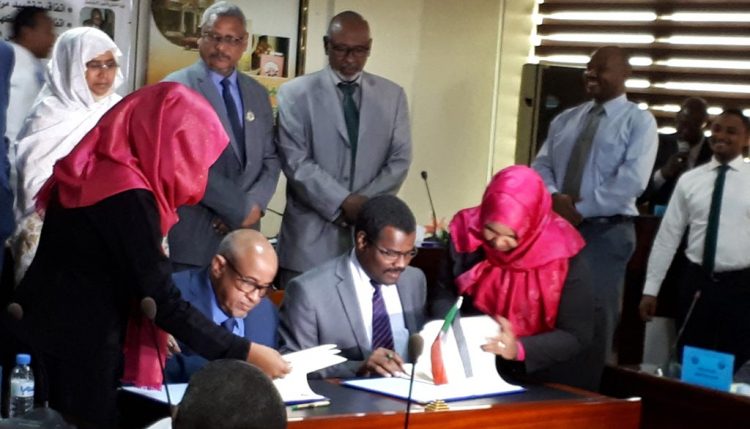 ENABLE Youth Sudan partners with leading bank to provide financial services to Agripreneurs
The Sudan Chapter of the ENABLE Youth Program has entered into a partnership with the Savings and Social Development Bank to facilitate access to financial services by the youth. The youth will be able to access seed capital for their agribusiness after undergoing a business incubation phase to equip them with the technical skills to establish viable businesses.
The partnership was signed by the General Manager of the Bank, Mr Abdul Mahmoud Suliman Mohamed Ali and Dr Salih Kheiralla the ENABLE youth national coordinator. The function was graced by HE Hasabo Mohammed Abdul Rahman, the Vice President of Sudan; Hon Mashair Al-Dawalab, Minister of Welfare and Social Security; Hon Abdullatif Ahmed Mohamed Ijaimi, Federal Minister for Agriculture and Forestry; Hon.- Moataz Musa, Minister of Water Resources, Irrigation and Electricity; and Major General Dr 'Issa Adam Abakr' the Governor of Southern Kordofan. Also present was Mary Thiong'o, IITA's technical advisor to the program.
The Minister for Agriculture and Forests, Dr Abdeltif Ijaimy, hailed the partnership as one that would transform agribusinesses as access to finance for the agriculture sector has been a huge challenge in Sudan.
He said that with the partnership, the Agripreneurs are guaranteed access to affordable financial services which would contribute to guaranteeing food and nutrition security and job creation.
He noted that the ENABLE Youth program was well aligned with Sudan's development agenda articulated in its five-year development strategy, which is anchored on the commitments to alleviate poverty and integrate young graduates in production cycles to enhance their standard of living and contribute more to the national economy.
"The initiative will contribute to the country's agenda to achieve the SDGs and ease the huge unemployment problem in Sudan," he said.
The bank committed to provide financial literacy sessions to the youth as well as develop favorable financial lending products for Agripreneurs. The financing model adopted between the two institutions will further be replicated in other states to create widespread community economic transformation.
Source: Mary Thiong'o