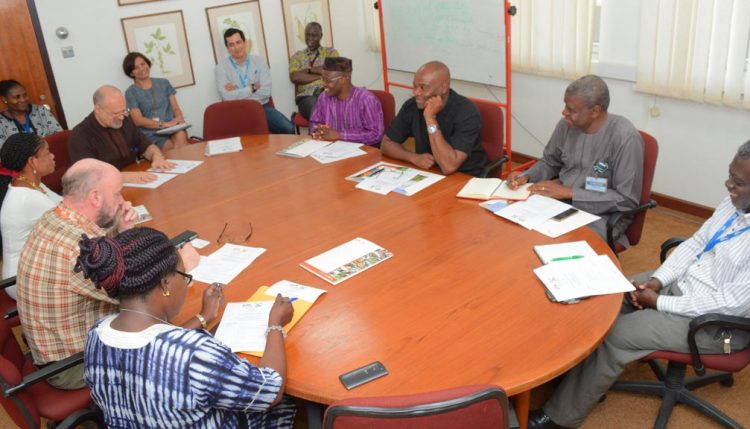 FUNAI explores and discovers areas of collaboration with IITA
Representatives from the Federal University, Ndufu-Alike Ikwo (FUNAI), Ebonyi State, visited IITA, on 19 February, to exchange ideas, explore potential areas for collaboration, and identify possible ideas that can emanate from the research and knowledge of IITA's work.
The team comprising the Vice Chancellor (VC) of FUNAI, Chinedum Nwajiuba, accompanied by the Director of Agricultural Planning (DAP), Johny Ogunji; Dean, Faculty of Agriculture, Christiana Igberi; Director, Center for Development Assistance Manager, Partnership and Training (CEDAMPAT), Chris Uwadoka; and Lecturer, Department of Economics, Makua Ojide, was welcomed by IITA staff.
Receiving the delegation, IITA Deputy Director General, Partnerships for Delivery, Kenton Dashiell, apprised them about the strategic role IITA has played in the past 50 years, while emphasizing the importance of partnership to research and development, in finding solutions to the problem of food and nutrition security. "IITA has a vision of transforming African agriculture, which means we have to transform agriculture in places like Ebonyi State. Hence, the only way we can impact the people of Ebonyi State is through partnership…I encourage FUNAI to take full advantage of having two IITA alumni in their midst by making their visit a productive one," he stated.
Reacting to Dashiell's statement, Nwajiuba said "Having worked in IITA with my colleague Ojide, we know that IITA is an excellent and a reputable research institute to partner and collaborate with. Although FUNAI is a fairly new university having been established about 8 years ago, we want to establish the right culture and set the pace by partnering with IITA in the area of research, capacity development, and also help deliver their research products to end users to help ensure food security in Africa," he added.
While conducting the visitors around IITA facilities, which included the aflasafe™ (a biocontrol product for controlling aflatoxins) production plant, NoduMax, a soybean inoculum fertilizer, yam aeroponics a new rapid multiplication system of yam seeds), plantain multiplication, a new method of multiplying plantain using suckers, the IITA Youth Agripreneurs (IYA), Genetic Resources Center, the FUNAI VC said, "…without doubt, this tour is really revealing! I am impressed with IITA's transformation agenda. I am thrilled to see young people being job creators and not job seekers, and to see the IYA model as a vehicle for addressing youth unemployment in Africa." Corroborating the VC's statements, Ogunji said that it is encouraging to see that the young generation is better trained and mentored on thinking beyond the periphery of this harsh economy, and making a living from agriculture.