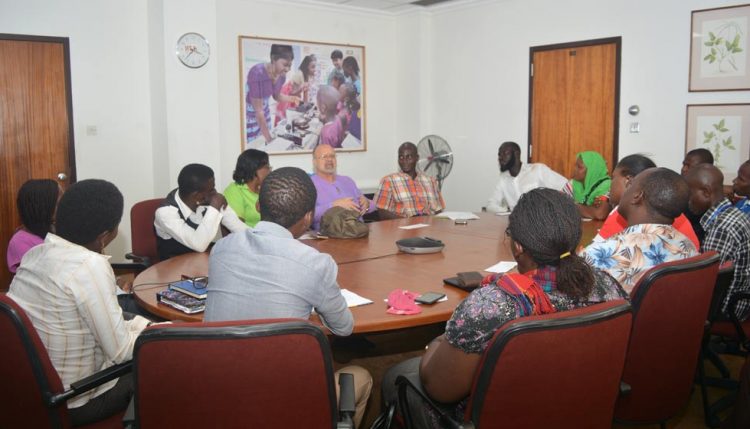 NYCN Oyo chapter visits IITA
Representatives from the National Youth Council of Nigeria (NYCN) Oyo State Chapter visited IITA HQ on 21 February to discuss possible collaboration and deliberate on plans to network the youth in Oyo State in agriculture.
A delegation involving the council chairperson Adebobola Agbeja and other executive and non-executive members were received by Kenton Dashiell, IITA's Deputy Director General, Partnerships for Delivery (DDG-P4D). Dashiell welcomed the youth, saying: "I agree with you a hundred percent that it is your generation that will make Nigeria great, so I count on you all to make this happen. Please do not let me down."
Tarebulu Fadumiye, a member of the Capacity Development Unit of IITA Youth Agripreneur (IYA), gave an overview of IYA activities, emphasizing that with commitment, dedication, and hard work, Nigerian youth can excel in the agricultural sector, thus becoming job creators and not job seekers.
The DDG-P4D spoke to the youth about the skills they require to become good agripreneurs which include technical skills, business skills, good orientation, and the ability to get finances… "when you want to do agricultural production correctly, you have to do it exactly right" he said. He also told them success stories of young people who started from almost nothing, but are now thriving in agribusiness because of how hard they have worked. He suggested that the chairperson liaise with the IYA Capacity Development Unit to train 20 youth from the NYCN, Oyo State chapter on agribusiness. He added that IITA does not give out funds as the Institute is itself dependent on funds from its partners to carry out its vision and mission.
In an interview, Agbeja expressed excitement at IITA's offer to train NYCN members on agribusiness. "We look forward to the training for it is going to serve as a platform to expose many of the youth in Oyo State to lucrative agribusinesses. Coming to IITA was the right thing to do; we appreciate the warm reception we have been given," she said. She thanked the DDG-P4D for stimulating their interest on agribusiness.
NYCN is the apex and umbrella body of all the voluntary youth organizations representing young people in Nigeria. The organization provides a platform for the advancement, mobilization, and coordination of youth development, and the promotion of peace, unity, and tolerance.