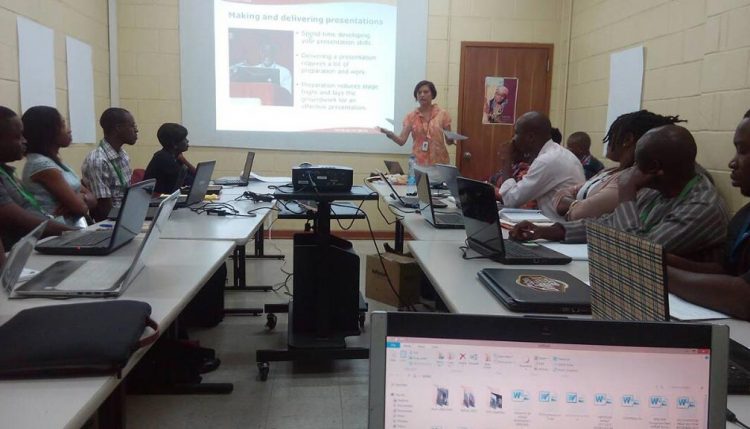 IARSAF training: Enhanced communication skills and data management for better research
Research fellows under the auspices of International Association of Research Scholars and Fellows (IARSAF) underwent two different training sessions to enhance skills necessary for their development as researchers. The training comprised a two-day seminar on improving communication and presentation skills and a three-day course on quality data management techniques, both organized in conjunction with IITA's Capacity Development Office (CDO).
During the first training which took place on 30 and 31 January, IARSAF members were guided through the basics of communication by staff of the Communication Unit. They were also tutored on best practices to adopt for their research presentations to be more effective.
Lead facilitator and Head of Communication Unit, Katherine Lopez, was joined by a team including Yvonne Olatunbosun, Clement Ono-Raphael, Adegboyega Juba, Godson Bright, and Uzoma Agha. A highlight of the training was Ono-Raphael explaining the need for a focused and uncluttered graphic presentation saying: "Less is more."
The training included practical sessions on developing more effective scientific posters and slide presentations, and making presentations to their peers, with a critique provided by the trainers and colleagues.
The Data and Information Management Unit (DIMU) anchored the training on data management, on 13-15 February. This training aimed to equip the participants with knowledge on the various aspects of data management such as data quality and organization, curation, and metadata. The DIMU staff conducting the sessions also covered important areas such as Office365, SharePoint, and Open Access.
E-research coordinator Martin Mueller led facilitators from DIMU including Olatunbosun Obileye, Elsie Ezomo, Soji Oloyede, and Bosede Ayinla along with Morenike Abu from the Project Development and Administration Unit (PDAU).
The training sessions are in consonance with the agenda of the current IARSAF executive to empower its members and strengthen sustainable and innovative agricultural research in Africa.
They had the full support of IITA's Deputy Director General, Research for Development, May-Guri Saethre, who was represented by Senior Executive Assistant Mary Badejo. She encouraged participants to make efficient use of the lessons learnt as the training courses were intended to improve their research skills. She also pledged R4D's continuous support to all IARSAF activities.
Both training ended with awarding of certificates to all participants after an evaluation by IITA Training Manager, Stanley Nwachukwu.