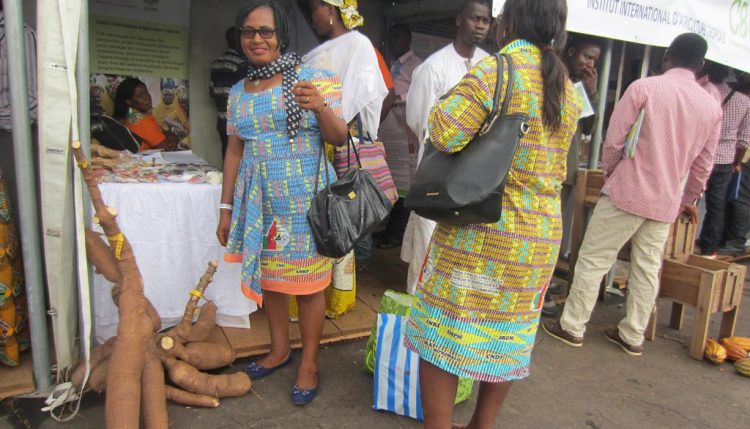 IITA participates in the Cameroon scientific exhibition day
IITA-Cameroon participated in the 6th edition of The Excellence Day of Scientific Research and Innovation in Cameroon (JERSIC), 21-23 February in Yaoundé. The three-day national exhibition organized by the Ministry of Scientific Research and Innovation (MINRESI), with the theme "Scientific research and innovation: Strategic tools for enterprise and socioeconomic transformation," took place at the esplanade of the Yaoundé City Council Hall.
The exhibition provided an opportunity for IITA to showcase some of its research findings and other documentation useful for farmers, scientists, and other stakeholders. Materials on display documented research findings on the fall armyworm, biopesticides, insects for food and feed, strategic tools for innovation in cocoa drying techniques, plant multiplication in tissue culture, soil fertility management, disease diagnostics and management, value chain analysis, as well as agricultural research and the Youth Agripreneur project, which will soon become operational in Cameroon.
Research products like the high yielding, improved varieties of maize and cassava as well as their by-products were also displayed.
IITA also participated in discussion sessions on start-ups and agricultural research for development. The recommendations retained by MINRESI will create an enabling environment for ENABLE Youth Cameroon and the IITA research program in Cameroon when they are implemented.
Cameroon's Minister of Scientific Research and Innovation Dr Madeleine Tchuente and the French Ambassador to Cameroon visited the IITA stand in addition to hundreds of visitors over the three-day period. Rachid Hanna, IITA Country Representative along with other IITA staff and students were on hand to welcome the visitors.
On the evening of the last day, the winners for 2018 were announced and celebrated. The joint team from the Institute of Agricultural Research for Development (IRAD) and IITA, working on cassava germplasm collection and conservation, was among the winners. Congratulations!