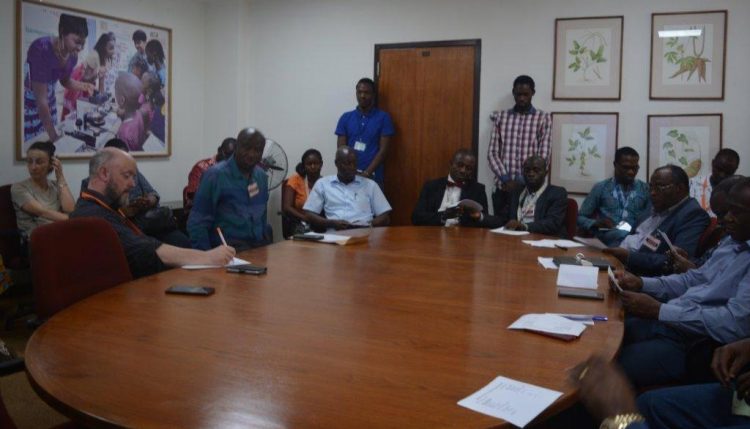 Representatives of PAU visit IITA
On 23 February, the Interim Deputy Rector of The Pan African University (PAU), Prof. Kassa Belay along with other representatives paid a courtesy visit to IITA to familiarize themselves with the Institute and strengthen the existing partnership.
The team, led by Prof. Matthew Abatan, the acting Director of PAU in Nigeria, was received by Michael Abberton, Head of the Genetic Resource Center (GRC).
Abatan said that they came to see the work IITA is doing and, most importantly, to appreciate the Institute for accommodating their students. In addition, Belay said: "We would like to extend our heartfelt thanks to IITA for having our students and making their staff and resources available to them."
The visitors had a closed-door meeting with the executive committee of the International Association of Research Scholars and Fellows (IARSAF) of IITA before being taken on a tour of the GRC and the Bioscience Center.
PAU is a postgraduate training and research network in five regions with a mission to provide quality postgraduate education geared towards the achievement of a prosperous, integrated, and peaceful Africa. It is a premier continental university, instigated by the Heads of States and Governments of the African Union and supported by the Association of African Universities. The headquarters is in Ethiopia; the Institute for Life and Earth Sciences (including Health and Agriculture (PAULESI) is hosted by the University of Ibadan, Nigeria.