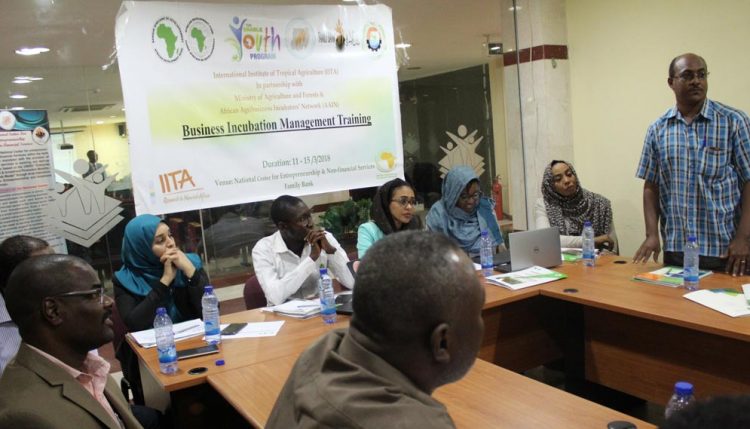 IITA builds capacity on business incubation for ENABLE Youth Sudan team
IITA has conducted a six-day comprehensive training on the establishment and management of successful business incubation programs for the team implementing the Empowering Novel Agribusinesses-Led Employment (ENABLE) Youth program and in charge of managing the platforms.
The training brought together 40 key stakeholders including state and incubator focal persons, officials from the Ministry of Agriculture and Forests as well as National Program Coordination Unit (NPCU) staff. They were drawn from five states of Sudan where the ENABLE Youth Program is being implemented—Khartoum, Gezira, Gedaref, Kassala, and River Nile.
The training objectives included: to create awareness and get key stakeholders to understand and support "agripreneurship" development in Sudan; equip the participants with capacities to develop and implement bankable business plans for the Youth Agribusiness Incubation Centers (YABICs), and to support the Agripreneurs to develop bankable business plans for their enterprises.
The training also aimed at supporting the participants to develop business models anchored on their unique business environments to ensure a high level of business performance and job creation.
During the training Mary Thiong'o, IITA Agribusiness Specialist and Technical Adviser to ENABLE Youth Sudan Program, implored the participants to utilize the skills gained to develop business plans for their incubators that act as roadmaps to guide business performance.
She further informed the participants that the training was one of a series that would be provided by IITA to ensure that the program's mandate was achieved. The training therefore covered topics such as incubation management, business modeling, and ecosystem and value chain mapping.
The training was conducted by a team from African Agribusiness Incubators Network (AAIN) and IITA led by Prof George Tumwesigye and Zoumana Bamba.
As part of the training, the team visited Technopole Incubator at Khartoum University and the leather value adding incubator at the Sudan University of Science and Technology.
The training is part of the technical assistance being provided to the Government of Sudan by IITA in the implementation of the ENABLE Youth program.
Business incubation refers to the business support process that accelerates the successful development of start-up and growth-oriented enterprises in the early stages by providing an array of targeted resources and services.
The African Development Bank (AfDB)-funded ENABLE Youth initiative is a comprehensive program that builds entrepreneurship in agribusiness via skill acquisition and creates an enabling environment in which young men and women become owners of profitable agribusinesses.