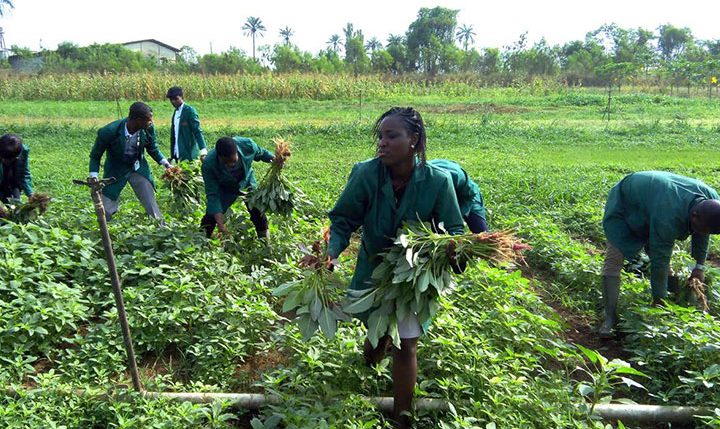 Leading Nigerian agricultural company explores areas of collaboration with IITA
On 14 March, a delegation from Dizengoff Nigeria Limited, visited IITA Ibadan to explore, share knowledge, discuss possible commercial ideas that can emanate from IITA's research and technologies, and establish grounds for future partnership.
The team led by Antti Ritvonen, Managing Director of Dizengoff, and accompanied by Damisa Enahoro, Commercial Manager Agriculture, and Oscar Wulumbe, Integrated Projects Country Manager, was welcomed by IITA Management staff. The delegates held discussions with the Institute's management, met with representatives of IITA Youth Agripreneurs (IYA), and were led on a tour of some IITA facilities, which included the aflasafe™ (a biocontrol product for controlling aflatoxins) production plant, NoduMax, a soybean inoculum fertilizer, vegetable screen house, and fish ponds.
Receiving the delegation, Kenton Dashiell, IITA Deputy Director General, Partnerships for Delivery, introduced them to IITA and the strategic role it has played in the past 50 years, working with partners to help smallholder farmers increase agricultural productivity. He went further to explain the importance of partnership to research and development in finding solutions to the problem of food and nutrition security.
Corroborating Dashiell's statement, IITA Business Incubation Platform (BIP) CEO Frederick Schreurs stressed the importance of partnership in upscaling the IYA model and using it as a vehicle for addressing youth unemployment in Africa while emphasizing the need for collaboration, especially in the area of screen house improvement.
In commending IITA for being the world's leading research center in transforming African agriculture, Ritvonen stated: "Today, which is my first visit, I have learned countless things from the IYA model; I am impressed at the level of professionalism and the top standards at which work is being done in IITA. The educational tour is an eye opener; it has further given credibility to our own thought process.
"Clearly, without a doubt, IITA is the right institute to partner with. We have identified areas of collaboration that we can build on to make commercial sense out of it, but we are going to start from the vegetable screen houses."
"As key players in Nigerian agriculture, we are looking forward to cooperating with IITA, and I am positive that both institutes will benefit from the collaboration," he added.
In concluding the visit, Walumbe appreciated IITA on behalf of the team and applauded IITA Management for the warm reception while expressing deep satisfaction with the work that IITA is doing especially in exploring options for attaining employment creation for youth across Africa.
Dizengoff Nigeria Ltd is one of the leading agriculture and communication technology companies in Nigeria, providing the best-in-class innovative solutions in irrigation, greenhouses, agro-consumables, communications technology solutions, tractor and implements, and turnkey projects.