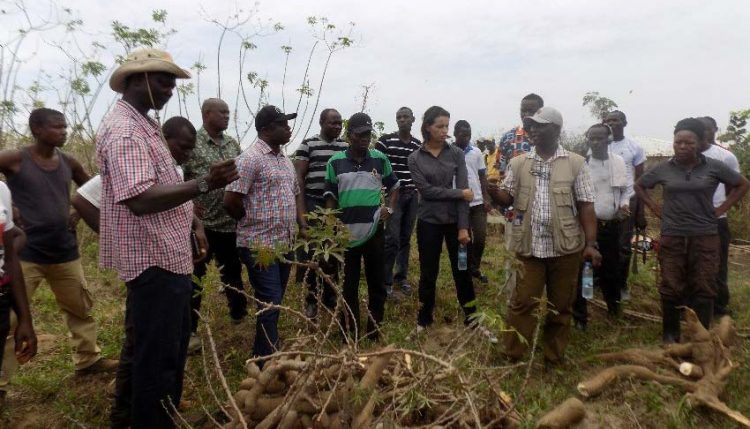 AfDB team visits Liberia
The AfDB team, lead by Mr Philip Boahen (Task Manager), visited Liberia to evaluate the activities of the Smallholder Agricultural Productivity Enhancement and Commercialization (SAPEC) project. The AfDB team held a meeting with the SAPEC coordinating office staff and IITA and AfricaRice teams with a presentation on project achievements by the Monitoring and Evaluation Officer, Mr Harry Wonyene. The team then visited the IITA demonstration farm at Kakata, Margibi County and the Women of Destiny (WODY) cassava processing center at Benton city, Montserrado County.
At the IITA demonstration farm, Boahen interacted with the cassava farmers trained by the Extension Agronomist of the project, Michael Edet. The farmers thanked the AfDB team for the assistance and promised to sustain the achievements of the project, after showcasing some of the cassava roots harvested from the demonstration farm. With the AfDB team was the SAPEC coordinating office team, the County Agricultural Coordinator (CAC), and the SAPEC Focal Person of the County.
At WODY, the AfDB team met the staff working on the production of high quality cassava flour (HQCF), as introduced to them by the Postharvest Specialist of the project, Wasiu Awoyale. Products displayed during the visit were fufu powder, HQCF, cassava starch, depah (fermented cassava flour), and fortified gari. The team with the SAPEC Coordinator, Mr William Kawalawu, interacted with Madam Comfort Jalah, the CEO of the factory. The AfDB team was impressed with the level of technology transfer, especially the operation of all the machines by the women. However, the team made some comments on the completion of the other processing centers, use of safety wear, proper branding and packaging, and the sustainability of the centers, among others. On the factory's sustainability, Edet and Awoyale wrote three concept notes which cover the establishment of the cassava outgrowers' scheme around the centers, training of factory workers on equipment troubleshooting and maintenance, and the use of HQCF for bread and other baked products. Cooked fufu powder and groundnut soup were tried by the AfDB Task Manager during the visit.