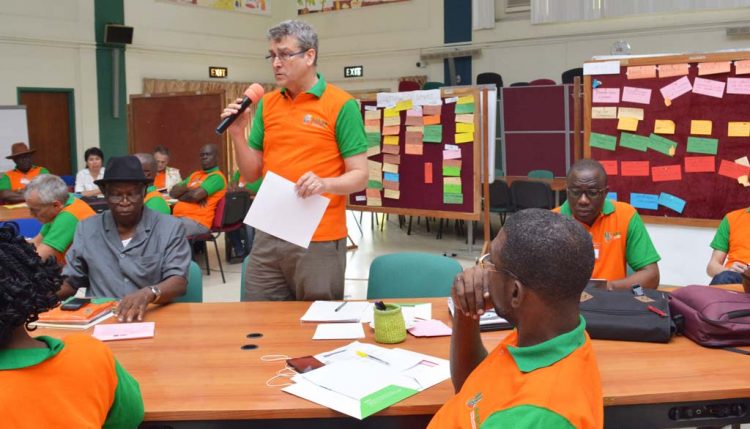 BASICS Project stakeholders strategize ways to improve cassava productivity in Nigeria
To build an economically sustainable seed system that is profitable for the entire cassava seed value chain and in due course, the Nigerian farmers and community, the project, Building an Economically Sustainable Integrated Seed System for Cassava (BASICS) hosted stakeholders for a three-day annual review and planning meeting (ARPM), on 14-16 March, at IITA Headquarters in Ibadan, Nigeria.
The meeting, facilitated by Sue Davison, Director of Pipal Limited, was themed "CONSOLIDATE" with the aim of (1) Developing shared understanding of the cross-cutting dependencies between breeder, foundation, and commercial seed producers and  agree on quantities of seed flows over the next three years; (2) Finalizing coordinated work plans for all project components for 2018; (3) Socializing and strengthening the key building blocks of seed system being developed in the project; and (4) Planning for sustainability in all the key project interventions.
In his address, BASICS Project Director Hemant Nitturkar, gave a run-down of the achievements and challenges of the 4-year project so far. He stated that Nigeria is the largest producer of cassava in the world with a production of about 54 million tons, but its yield per hectare of roots is only about 8 tons, less than half of the realizable yields of more than 20 tons. Based on research, one of the reasons for low yields in cassava is the poor adoption of clean and healthy seeds of improved varieties by farmers. It is therefore expedient to plan to regularize the production of breeder seed materials, foundation seed, and quality commercial seed to be sold to cassava farmers.
"We want to focus on strengthening all the pioneering project interventions and ensure durability and legacy of the project assets as BASICS intends to lessen, and eventually withdraw from direct support to the grassroots seed value chain stakeholders in Nigeria," Nitturkar said.
Lawrence Kent, Senior Program Officer, Bill & Melinda Gates Foundation reaffirmed the Foundation's financial support for the project saying; "Gates Foundation is very supportive of the government of Nigeria's plan for inclusive agricultural transformation. The government is trying to increase the productivity of farmers, particularly smallholder farmers in the country. In the same vein, the Gates Foundation is helping to create a sustainable way to disseminate improved seed varieties of cassava to farmers to improve their productivity as cassava is an important staple crop for consumption and economic development in Nigeria."
Kenton Dashiell, IITA Deputy Director General, Partnerships for Delivery, emphasized IITA's commitment in improving cassava production in Africa, while highlighting the efforts of BASICS in transforming the cassava value chain in Nigeria: "For 50 years, IITA has been breeding cassava; we will continue and improve tremendously in what we do, we will continue to support the Nigerian government in transforming agriculture and improving livelihoods," Olusegun Ojo, Director General, National Agricultural Seeds Council (NASC), expressed his excitement about the development and deployment of an innovative digital tool: "The Cassava Seed Tracker, which is an innovation from IITA, is actually very good and NASC will take it to a new dimension by transforming it from just cassava to a national seed tracker; we want to entrench it into the national seed system because it is going to help in the value chain."
Prof Joseph Ukpabi, Acting Executive Director, National Root Crops Research Institute (NRCRI), during the panel discussion said NRCRI is working to strengthen its wholly owned subsidiary, NRCRI Consult Limited, to produce certified breeder and foundation seed to serve the seed value chain. "NRCRI will continue the use of semi-autotrophic hydroponics (SAH) technology for rapid multiplication of early generation seeds and continue what we are doing with processors. We want to encourage the processing aspect which we are doing with the private sector and individuals," he said.
Aaron Baldwin, Head, Farms and Agronomy, Flour Mills of Nigeria, stated that cassava is a major crop of high value proposition for the Nigerian market: "We need to have a large volume of certified stems and we truly support having certified stem systems going on along its value chain," he said. Concerning inputs, Aaron further explained: "FMN is aiming to establish a minimum of five nursery sites across Nigeria to produce good quality seeds with improved agronomic practices. We want to look at how we can use herbicides together with good agronomic practices to be able to achieve high quality cassava and high yield."
The meeting was attended by national and international partners, policy makers, and development experts from Catholic Relief Services (CRS), NRCR), the National Agricultural Seed Council (NASC), the Food and Environment Research Agency (FERA), the Federal Ministry of Agriculture and Rural Development (FMARD), the International Potato Center (CIP), CGIAR Research Program on Roots, Tubers and Bananas (RTB), and IITA.
BASICS in Nigeria is a 4-year project funded by the Gates Foundation that seeks to create a commercially viable private sector cassava seed system in Nigeria that is compliant with improved seed certification standards implemented by NASC.
More information on the project can be obtained from http://www.rtb.cgiar.org/basics. Watch snippets from the Annual Review Meeting here: https://www.youtube.com/watch?v=7EdUlE8N2kw.